Only Prince William, not Prince Harry, has role in King Charles III's coronation service
The Prince of Wales will pledge his loyalty to His Majesty during "The Homage of the Royal Blood" ceremony.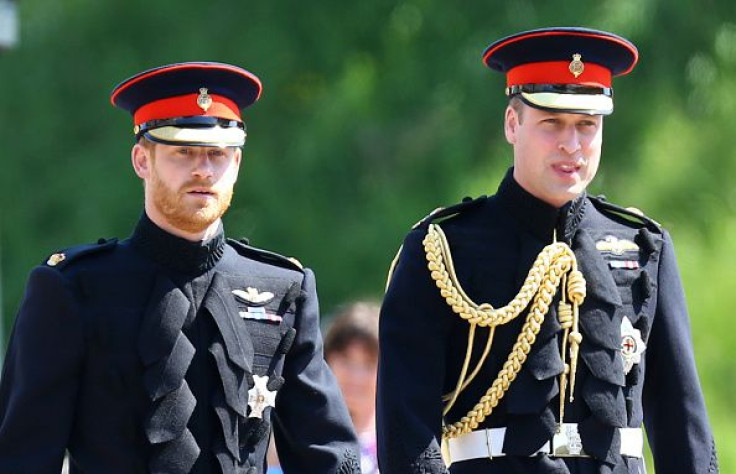 Prince Harry will attend King Charles III's coronation on May 6 but will not perform any specific role unlike his brother Prince William.
The Duke of Sussex was not mentioned in the liturgy of the coronation ceremony, which means he does not have any speaking part nor does he have any important task to partake in the service. The Prince of Wales is the only member of the royal family who will speak halfway through the ceremony.
According to the liturgy posted by The Church of England online, Prince William will swear his loyalty in the ceremony known as "The Homage of the Royal Blood." He will say the words of fealty as he kneels before King Charles III, places his hands between his, and recites: "I, William, Prince of Wales, pledge my loyalty to you and faith and truth I will bear unto you, as your liege man of life and limb. So help me God."
Likewise, the dad-of-three will appear when the Stole Royal and the Robe Royal are presented to the monarch. He will assist both Baroness Merron and the bishops in placing the robes on his father.
Meanwhile, Prince William's eldest child, Prince George, has been named as one of King Charles III's Pages of Honour along with other boys of similar age. The other pages are Lord Oliver Cholmondeley, Master Nicholas Barclay, and Master Ralph Tollemache. They will carry His Majesty's robe to ensure that it does not get dragged on the floor.
The prince's other children Prince Louis and Princess Charlotte are reportedly expected to attend the service with their mother Kate Middleton, and they will likely sit with the congregation. Queen Consort Camilla also has her own Pages of Honour which include her three grandsons, Master Gus and Master Louis Lopes, and Master Freddy Parker Bowles, as well as her great-nephew Master Arthur Elliot.
It is understandable that Prince William has an important role to play in the coronation service since he is second in line to the British throne. Prince Harry, who is fifth in line, does not have any tasks given that he is no longer a working royal. He and his wife, Meghan Markle, left their royal duties and moved to California in 2020.
Buckingham Palace announced that the Duke of Sussex will attend the ceremony by himself and that the Duchess of Sussex will stay with their children, Prince Archie and Princess Lilibet, in their home in Montecito. May 6 also happens to be their son's fourth birthday.
Despite not having any part in the service, King Charles III still included the Sussexes in the Official Coronation Programme, which will serve as a souvenir pamphlet. One of the pages in the programme includes a family portrait taken by royal photographer Chris Jackson during His Majesty's 70th birthday in 2018 and it showed a once-happy, united family.
According to Fox News, Prince Harry does not plan to stick around after the coronation service. He will fly back to California as soon as the ceremony ends so he can still celebrate Archie's birthday. The coronation service will reportedly start at 11:00 a.m. and will be followed by a "much larger in scale" procession back to Buckingham Palace.
However, a representative for Prince Harry has yet to announce his plans during his return home to the U.K. for his father's coronation. King Charles III and his wife, Queen Consort Camilla, will be crowned in London's Westminster Abbey in front of over 2,200 guests which include 100 Heads of State and 203 international representatives. The coronation will be followed by a concert on the grounds of Windsor Castle on May 7, with Katy Perry, Lionel Richie, Take That, and Andrea Bocelli among the performers.
© Copyright IBTimes 2023. All rights reserved.