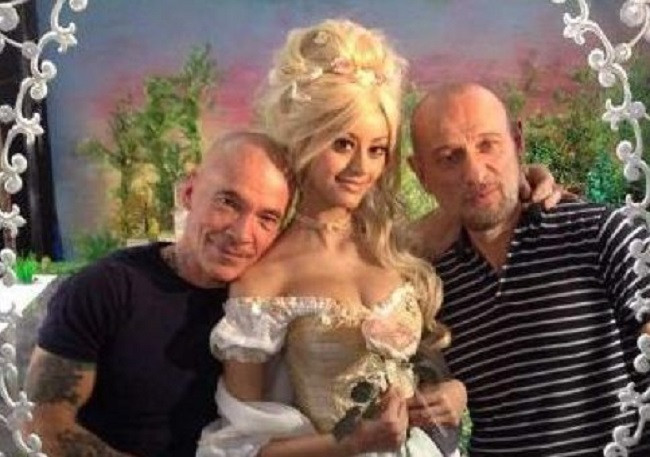 Royalists in France have condemned a photograph of former under-age prostitute Zahia Dehar dressed as Marie Antoinette after it was put on display in the prestigious Galerie des Gobelins - at a reported cost of €35,000 to the taxpayer.
Unions say the cost is unwarranted in austere times when President Hollande's government is seeking to save €50 billion (£41 billion) before 2017.
Dehar, 22, came to the public's attention when Franck Ribéry, the France footballer, was alleged to have had sex with her when she was 16.
Her picture, posing as the last French queen before the revolution, was created by artists Pierre Commoy and Gilles Blanchard and is displayed amid an exhibition of tapestries from the age of the enligtenment.
The photograph is surrounded by sofas and chairs used by Marie Antoinette in the late 18th century, and by a marble mantlepiece from Versailles chateau.
Marie Antoinette became known as Madame Deficit and France's financial crisis was blamed on her lavish spending.
The public were initially charmed by her personality and beauty when she became queen at the tender age of 19 in 1774. But eventually they came to dislike her for her indulgent and promiscuous lifestyle and close alliance to France's enemies, particularly Austria, her place of birth.
The monarchy was abolished on September 21, 1792 and the royal family was subsequently imprisoned at the Temple Prison. Eight months after her husband, Louis XVI's, execution, Marie Antoinette was herself convicted by the Revolutionary Tribunal for treason.
Long after her death, she has become part of popular culture featuring in books, films and other forms of media and is celebrated as a major historical figure. Some critics say if there had been no queen, there would have been no revolution.