As Filipino President Rodrigo Duterte nears 100 days in office, a poll has given him a "very good" rating.
The poll by Social Weather Stations (SWS), released on Thursday (6 October), involving face-to-face interviews with 1,200 adults across the Philippines, gives Duterte a net satisfaction rating of 64%, according to media reports.
As many as 76% of those polled voted in favour of Duterte, saying they were satisfied with his performance, while only 11% were unhappy. The remaining 13% were undecided. But the respondents were not asked to give a reason for their rating. According to the Philippines leading opinion poll agency, which conducted the poll, a rating of over 70% is considered "excellent" and 50-69% "very good".
The tough-talking president's first 90 days in office have focused largely on his campaign to eliminate drugs and related crimes in the country.
The rating is said to have placed him in a better position compared to his predecessors – Benigno Aquino, Joseph Estrada and Gloria Macapagal Arroyo. Only Fidel Ramos, former Filipino president and special envoy to China, seemed to have fared better than Duterte and got a rating of 66% in 1992.
The poll was conducted from 24 September to 27, just days after the G20 summit, where Duterte snubbed US President Barack Obama over criticism of his bloody war on drugs, but before the Filipino leader announced his wish to seek new alliances with China or Russia.
Reuters reported that another survey by a different polling agency, Pulse Asia, showed that Duterte received a record 91% trust rating. The poll was held just a month after he took office on 30 June, and the two polls are not comparable.
According to a political analyst, Nelson Navarro, the survey by SWS suggested that Filipinos felt safer under Duterte because he is keeping his campaign promise to get rid of crime and drugs in the country. Duterte's drive has reportedly killed over 3,400 people in 90 days.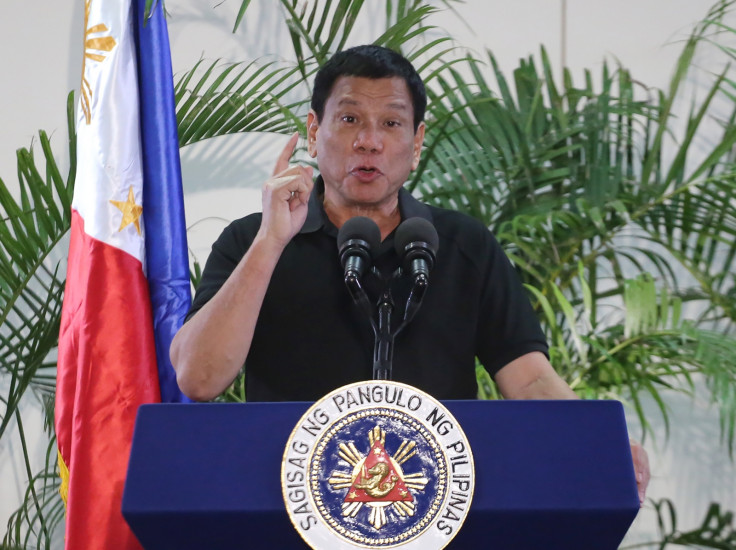 Navarro said Duterte's occasional profane outbursts against some of the world leaders, including Obama, UN chief Ban Ki-moon, or the European Union were not working against him as Duterte has supporters who would come to his defence.
"This is not going to be good manners and right conduct. What you see here is exactly what you get. His tough stance has gained him popularity across the Philippines," Navarro told Reuters. "Everyone likes to dump on President Duterte for the extra-judicial killings but ... there is a kind of backlash on the perception of the West."