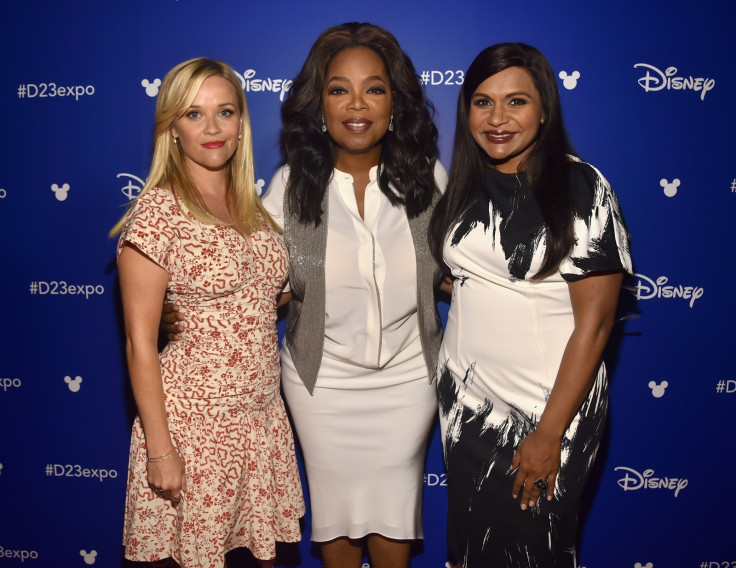 Earlier this month we reported that Mindy Kaling was pregnant, and while the 38-year-old has yet to make a statement regarding the news, her co-stars are more than willing to dish the details. Oprah Winfrey who acts alongside Kaling in A Wrinkle In Time, revealed to People magazine how the actress broke the news to her.
According to the media mogul, the two were standing in the film's press line at Disney's D23 expo when Kaling told her she was pregnant.
"That's when she told me. My mouth dropped," the 63-year-old explained. "'Oh, Oprah, I don't think you know. I'm 5-months pregnant.' And I said, 'WHAAAAT?!'
"I'm excited for her," she added.
Winfrey said that the expectant mother had only just told her other cast members about it. "I said to [Reese Witherspoon], 'Did you know?' and she said, I just found out, too.' And then I said to [director Ava DuVernay], 'Did you know?' And she said, 'I just found out.'".
While Kaling has opted to keep mum, she did debut her burgeoning baby bump at the Television Critics Association panel for her show The Mindy Project in Beverly Hills on 27 July. She chose to stick to the topic of her Hulu sitcom and her character's experiences as a married woman and mother in the upcoming final season.
"The episode is a little bit about mom shaming and that's cool. It was really fun and hit a lot of those juicy ripped-from-the-blogger-headline storylines," she mentioned.
The show's executive producer Matt Warburton expanded on the topics of the new episodes. "I think she's going to learn a little bit more about how to be a good, involved parent. We have a really funny episode where [Modern Family's] Julie Bowen plays a rival mother who thinks that Mindy's not doing that great of a job," he said.
Season 6 of The Mindy Project is set to premiere on Hulu on 12 September.