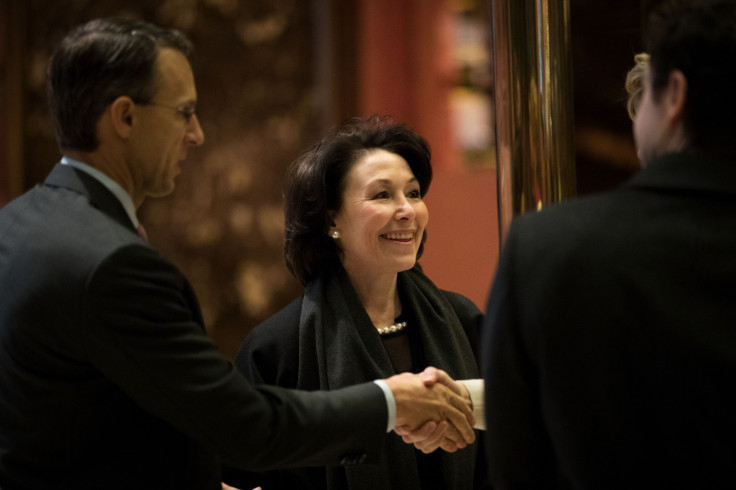 Oracle co-chief executive Safra Catz will be joining President-elect Donald Trump's executive committee on his transition team, a company spokesperson told Reuters on Thursday (15 December). Oracle spokeswoman Deborah Hellinger said the executive will continue to work at the tech company during the process.
Catz was one of several top Silicon Valley executives who attended a major meeting with Trump, his children and advisers on Wednesday at Trump Tower in New York. Other executives present at the meeting included Tesla's Elon Musk, Alphabet's Eric Schmidt and Larry Page, Microsoft's Satya Nadella, Apple's Tim Cook and Facebook's Sheryl Sandberg.
"I plan to tell the president-elect that we are with him and are here to help in any way we can," Catz said in a statement prior to the meeting, the Washington Post reported. "If he can reform the tax code, reduce regulation, and negotiate better trade deals, the US technology community will be stronger and more competitive than ever."
In November, Catz visited Trump in New York triggering speculation that the president-elect might be considering her for a possible cabinet position.
During the course of the US presidential election campaign, many technology executives expressed their apprehension over a Trump presidency and had supported Democratic candidate Hillary Clinton.
"This is a truly amazing group of people," Trump said during the recent meeting with Silicon Valley bosses. "I'm here to help you folks do well," adding that his administration is "going to be here for you. You'll call my people, you'll call me. We have no formal chain of command around here."
"There's nobody like you in the world. There's nobody like the people in this room," Trump continued.
White House chief of staff Reince Priebus tweeted that the tech summit included "productive discussions about job creation and economic growth".
Just hours before the meeting, Trump's transition team announced that Musk, Uber chief executive Travis Kalanick and Pepsi head Indra Nooyi will join Trump's Strategic and Policy Forum to offer their views and knowledge on the impact of government policies on economic growth, productivity and job creation.
"America has the most innovative and vibrant companies in the world," Trump said in a statement announcing the new additions to the Forum. "My administration is going to work together with the private sector to improve the business climate and make it attractive for firms to create new jobs across the United States from Silicon Valley to the heartland."