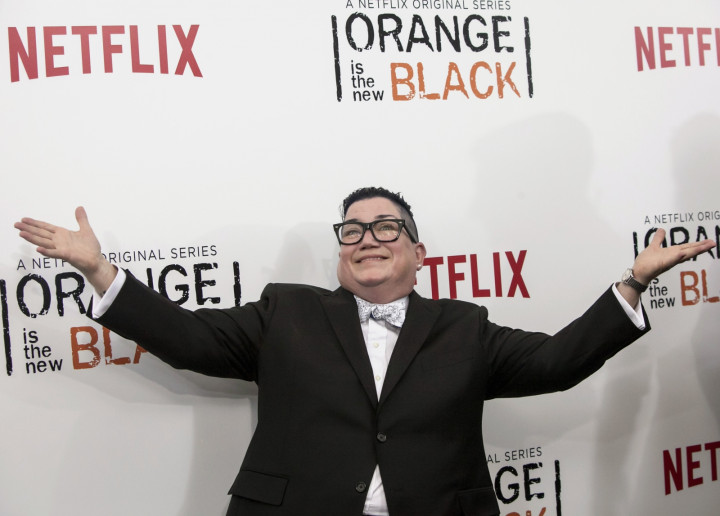 'Big Boo' from Orange is the New Black shouted down a man preaching anti-gay hate on the New York subway on Tuesday (4 November).
The actress, whose real name is Lea DeLaria, was filmed by fellow commuters standing up to the man preaching against the "sin of homosexuality".
She said: "You have no right! Go to another train. Get off this train. Other people believe other things and have every right to believe other things on this planet and in this world."
As the preacher continued to speak, referencing Sodom and Gomorrah, DeLaria attempted to drown him out.
"As long as you keep talking, I'll keep talking", she said. "We do not have to be force-fed this man's religious beliefs. Jesus never said for you to do this – ever."
DeLaria, 56, is initially seen at the opposite end of a train carriage taking issue with the man, before walking over to him as she raises her voice.
Her speech – made while wearing a t-shirt emblazoned with the words "Bad Jew" – have prompted discussion on social media, with polarised views.
One Twitter user wrote: "I am an atheist but I have to say he DOES have the right, we all do. I don't like to hear it but it's called freedom of speech."
When the preacher mentioned the "sin" of homosexuality, the subway argument became more heated. DeLaria, who is openly gay, responded: "There he goes! Now he calls me a dyke everyone!"
Earlier this year, DeLaria revealed one of her proudest moments came when she got Westboro Baptist Church Reverend Fred Phelps removed from the 1992 New York Pride Rally.
The actress told Huffington Post that she saw him protesting holding up "horrible signs" and went over to him and began "heckling him".