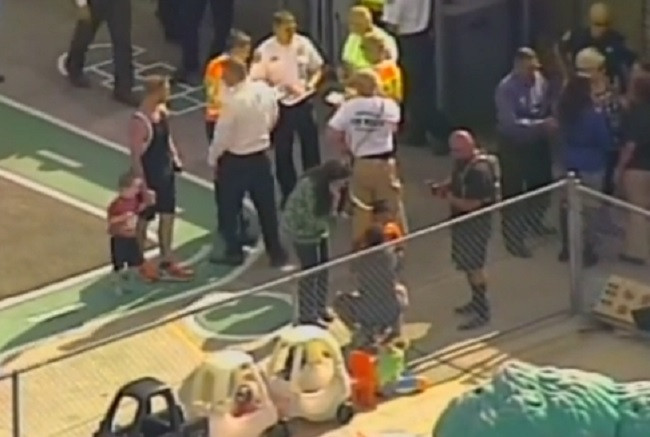 A four-year-old girl has been killed and 15 injured after a car crashed into an Orlando day care centre.
Police said a silver Dodge Durango hit a black Toyota Solara which ploughed into the KinderCare building in Goldenrod Road on Wednesday afternoon.
Twelve children and one adult were taken to hospital while two others were treated at the scene.
Eyewitness Jeezy Jenkins, who was at the petrol station next door, said he saw several small children seriously injured.
He told Click Orlando: "The ones that I did see, I seen blood come out of their mouths, their mouths hit something because they were bleeding out of their mouths and there was other ones that weren't moving at all, and the teachers were giving them CPR and stuff like that."
Another witness Joel Rosado said: "We could see the teachers were, like, panicking. One was performing cardiopulmonary resuscitation on a child, and other children were bleeding and not moving."
Police are now hunting for 28-year-old Robert Corchado who is suspected of driving the Dodge Durango which sent the Toyota Solara careering into the day care building.
According to the Florida Highway Patrol, Albert Campbell had been turning the Toyota into a driveway next to the day care centre when the accident occurred.
Rosado said: "It was bad. The driver of the Solara emerged uninjured but visibly emotional."
Arnold Palmer Hospital for Children confirmed the death of the four-year-old whose name has not been released yet.
Another child was in a critical condition and five more were seriously hurt, the hospital said.
The Dodge Durango was later found at a house in Orange Avenue, Winter Park. But as yet Corchado has not been traced.
Orange County Mayor Teresa Jacobs called the crash an "absolute tragedy and disaster".