A mosque previously attended by the gunman who killed 49 people at a nightclub in Orlando has been burnt down in a suspected arson attack. Emergency services were called following reports of a fire at the Islamic Center of Fort Pierce, 12.30am local time on 12 September.
Following an investigation, the St Lucie Sheriff's Office said it now believes the blaze was started deliberately. CCTV of a suspect they want to speak to, who was seen approaching the building just before the fire started, will be released soon.
The mosque was known to have been attended by Omar Mateen, the gunman who opened fire at the Pulse nightclub on 12 June in what became the worst US mass shooting in modern history.
Speaking at the scene, Major David Thompson told reporters officers "don't want to speculate on the motive for the possible arson attack", but added the date of the incident – close to the 15th anniversary of the 9/11 attacks in New York – "is in the back of our minds".
Mateen was killed in a shootout with police during the 12 June attack, in which 53 people were also injured. In a call to emergency services during the attack Mateen was heard pledging allegiance to jihadist group Islamic State. (Isis).
There are no reports of any injuries following the fire.
A St Lucie Sheriff's Office spokesperson said: "A fire at any place of worship is alarming, regardless of the circumstances.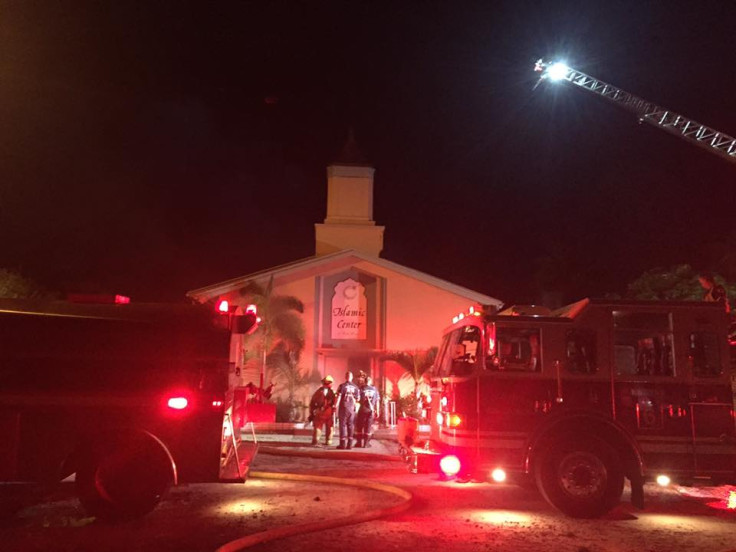 "Video captured at the Fort Pierce Islamic Center shows an individual approached the east side of the building just moments before a flash is seen and the fire starts. The Sheriff's Office is actively investigating this as arson with the assistance of the St. Lucie County Fire District, the Florida State Fire Marshall's Office, the Bureau of Alcohol, Tobacco and Firearms and the Federal Bureau of Investigations.
"As soon as we are able, we will release the video of this incident and ask for the public to assist us in identifying the person or persons responsible. This investigation is at a very early stage and updates will be provided as new information is available."