A Facebook post by Muslim-American Mahmoud El-Awadi has gone viral in the aftermath of the Orlando shooting, with the Orlando resident urging people to donate blood. Posting an image of himself at a blood bank, Awadi said that he was frustrated that someone claiming to be a Muslim had committed this attack.
Within 16 hours, the Facebook post has been shared more than 95,000 times and hundreds have commented and thanked him for his inspiring words. Awadi said that he, alongside other Muslims in Orlando, were donating blood despite fasting during the month of Ramadan and urged people not to focus on religion, ethnicity, sexual orientiation and politics at this time.
Awadi wrote: "Yes, my name is Mahmoud, a proud Muslim American. Yes, I'm sad frustrated and mad that a crazy guy claim[ing] to be a Muslim did this shameful act."
According to his LinkedIn profile, Awadi is the Vice President and Portfolio Manager of Merrill Lynch in Orlando, Florida. He noted that he had "witnessed the greatness of this country" while watching thousands standing in 92-degree heat and waiting their turn to donate blood, despite being told that the waiting period would be at least five to seven hours.
His Facebook post also highlighted the fact that people from different backgrounds and of different ages had been volunteering to provide water, juice, food, umbrellas and sun block to those waiting. Alongside them, Awadi said that veterans and Muslim women in hijabs had also volunteered to carry food and water to donors.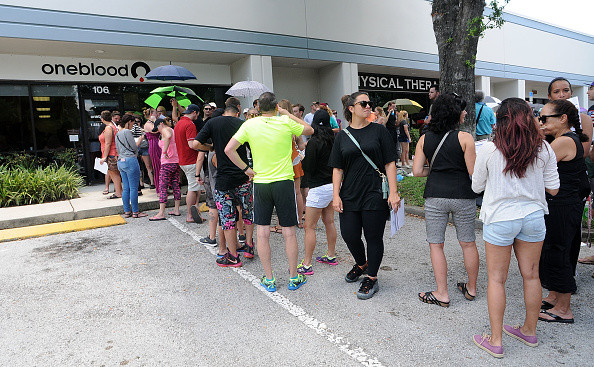 The Facebook post continued: "Our blood all looks the same so get out there and donate blood because our fellow American citizens are injured and need blood. Together we will stand against hate, terrorism, extremism and racism."
Many have commented on the post, thanking Awadi for donating blood. One user from the UK, Maximilian Kilworth, thanked Awadi and the rest of the Muslim community for helping and said: "This means so much to someone like myself and the rest of the LGBT community since we're not allowed to donate blood."
In the US, the Food and Drug Administration (FDA) guidelines for blood donation state that gay or bisexual men who have had sex with a male in the last one year cannot donate. The rules are similar in the UK, Brazil, Australia and Japan.