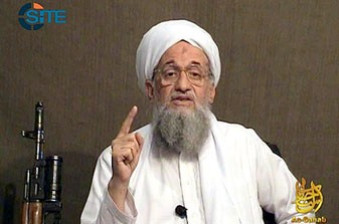 Ayman al-Zawahiri, who took control over the terrorist network following the assassination of Bin Laden in May, said his predecessor was a noble and sensitive man.
He made the statement in an online video posted on jihadist websites. The video, entitled "Days with the Imam: Part One" and lasting 30 minutes, tells of Zawahiri's experiences working alongside Bin Laden.
"People don't know that this man was tender, gentle, kind, with refined feelings, even when life was hard," a bespectacled Zawahiri proclaims.
"We never saw a man like him."
He also praised Bin Laden's relationship with his children, saying he was a devoted and loving father who worked hard to ensure his children received a good education despite the unstable circumstances of their upbringing.
"Everyone close to him saw the fine and noble education in his children," he said, adding that Bin Laden employed a teacher who would threaten to beat the children with a stick to teach them the Koran.
Zawahiri, who met Bin Laden in Pakistan in the 1980s and was for a long time considered the Al;-Qaeda leader's lieutenant and the brains behind much of the organisation's terror strategy, said Bin Laden worked hard to preserve the memory of the men who carried out the 9/11 attacks in America.
"The sheikh would remember with goodness and gratitude and be moved by the memory of the 19 brothers who attacked the idol of our age, America," Zawahiri said. "He would remember these brothers with extreme fidelity."
It is not clear when the video was recorded.