Oscar Pistorius Bathroom Door Joke By Kiwi Restaurant Leaves Bad Taste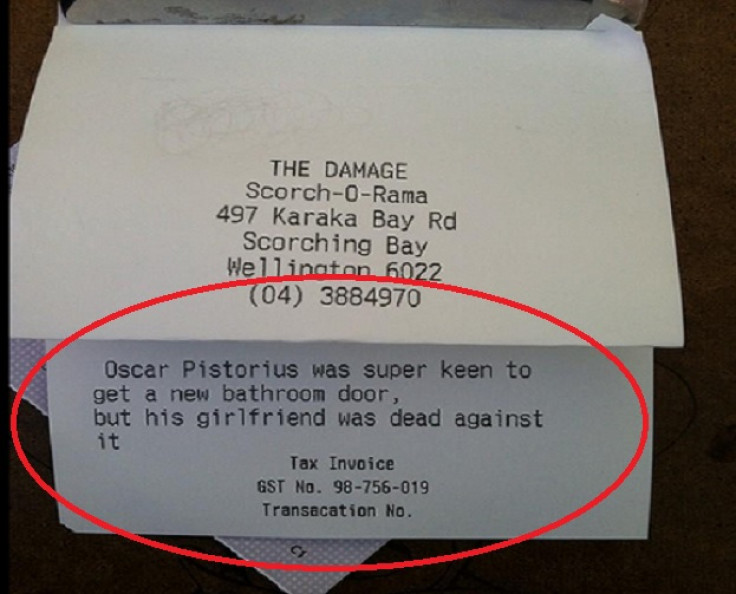 A joke on a receipt has led to accusations of bad taste against a restaurant for making light of Oscar Pistorius killing his girlfriend, Reeva Steenkamp.
Scorch-O-Rama in Wellington, New Zealand, cooked up a social media storm of criticism for printing the following 'joke' on meal receipts for customers:
"Oscar Pistorius was super keen to get a new bathroom door, but his girlfriend was dead against it".
Angry complaints flooded in, with one person even phoning from Australia to vent after a woman published a photo of the offending receipt on Twitter.
Scorch-O-Rama issued a grovelling apology amid threats by the some furious diners to never again visit the cafe in Scorching Bay.
Typical of the web outrage was Carrie Bee, who wrote on Facebook: "How could anyone think that a case of domestic violence that ends in a woman's death is funny? You disgust me."
There was more: "You needed complaints before realising your "joke" was totally out of order?" ranted Denise Ritchie. "Your IQ is? For you to even explore jokes around a man's culpable homicide of his girlfriend shows you are part of the global travesty of male violence against women."
Other web users were more relaxed about the gag. James Ward wrote: "Don't let the outrage brigade get you down, give it a few days and another storm will brew in a teacup."
Scorch-O-Rama owner Keith Morrison insisted no harm was intended by the graphic joke. He claimed it was removed when the first complaint came in.
"Sometimes our brains are the last thing to engage, when they should be the first. We apologise again for any hurt or distress we caused people - it was absolutely never our intention.
"People are saying 'are my staff in an environment that isn't safe?' Come on. It's ridiculous to infer that, but I understand."
© Copyright IBTimes 2023. All rights reserved.