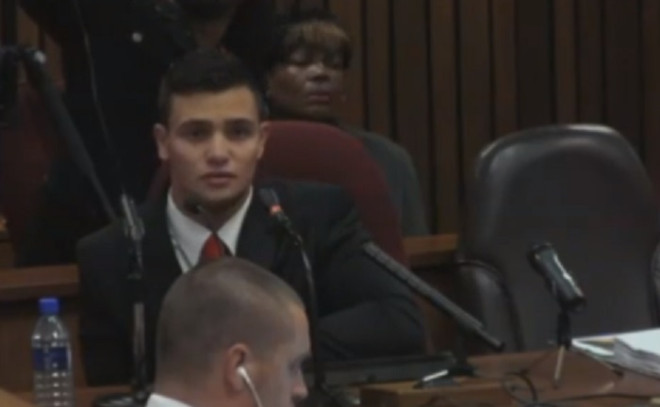 Professional boxer Kevin Lerena told the Oscar Pistorius murder trial how the runner shot him in the foot when a gun went off by accident in a restaurant.
Cruiserweight fighter Lerena said he was left "in complete shock" by the incident which happened only weeks before before Pistorius shot Reeva Steenkamp on Valentine's Day 2013.
The gun had been passed to Pistorius beneath the table at Tasha's restaurant in Johannesburg. Lerena and Pistorius were meeting two friends to discuss diet ahead of an Lerena bout.
The boxer told North Gauteng High Court, where Pistorius is on trial on charges of murdering Steenkamp, that the restaurant plunged into silence after the blast as Pistorius pleaded with friend Danny Fresco to take the blame for the shooting.
Under questioning from prosecution counsel Gerrie Nel, Lerena admitted: "There could've been a fatality."
He said: "A shot went off in the restaurant and then there was just complete silence. I was in complete shock and I looked down at the floor and exactly where my foot was there was a hole in the floor.
"There was a little graze on my toe, but I wasn't hurt or injured and I didn't need to seek medical help or anything like that. I was scratched and there was blood on my toe. I was in shock because I've never been in a confined area where a gun's gone off by accident. There could've been a fatality."
Pistorius wanted Fresco to take the rap in order to avoid "media hype."
Lerena said: "I remember Oscar saying to Darren, please just say it was you. Please take the blame for me. There's too much media hype around me.
"Darren took the blame. I never spoke about it again."
Following the incident, Lerena was deluged by calls from media outlets around the world which had heard of the accidental shooting. He told the trial that more than 100 missed calls stacked up on his phone.
Pistorius denies premeditated murder of Steenkamp. He claims he thought his girlfriend was an intruder in the bathroom of his luxury home in a gated community on the outskirts of Pretoria.