Canada has an international reputation for peacefulness, perhaps accentuated by the global reputation of its gun-loving US neighbours.
But as news breaks that one or two shooters are involved in an ongoing attack in the country's parliament building in Ottawa on Wednesday, social media is rife with people speculating about Canada's gun laws. Many have ventured into the Twittersphere to ask: "aren't guns illegal in Canada?"
The colossal North American country is no stranger to gun massacres, and has, in the 20<sup>th and 21<sup>st centuries, witnessed more than 10 tragic shootouts.
One of the most high-profile was the École Polytechnique massacre in Montreal in 1989, during which Marc Lépine murdered 14 women, and wounded a further 10 women and four men, as part of a misogynistic attack against feminism.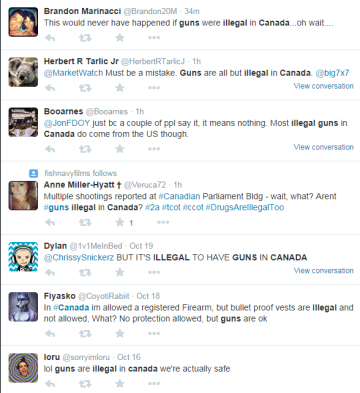 Most recently, the Dawson College shooting in Montreal, which took place in 2006, saw Kimveer Gill shoot randomly at the entrance to the school, killing one person and injuring 19, before turning the gun on himself.
The Dawson College tragedy was the third fatal school shooting in the Quebec city, after the Ecole Polytechnique incident and a shooting spree at Concordia University in 1992.
Gun politics
Gun politics in Canada are largely about registration and licences, and despite international assumptions, guns are by no means "banned" in Canada.
Today there are three classifications for firearms in the country: non-restricted, restricted and "prohibited". Since 2012, the requirement to register non-restricted firearms has been dropped in every province and territory except Montreal.
In Canadian gun law, the word "prohibited" is a classification and does not indicate that such firearms are banned, only that a specific licence must be attained to buy and carry them. Weapons in this category include handguns, rifles, shotguns and automatic weapons.
Websites that teach people how to navigate Canada's "simple firearms processes" such as HowToGetAGun.Ca are a huge hit in the country. The owner of the aforementioned site claims to have received 73,000 hits from Canadians in the past year alone. "And they say Canadians don't like guns!" he quips.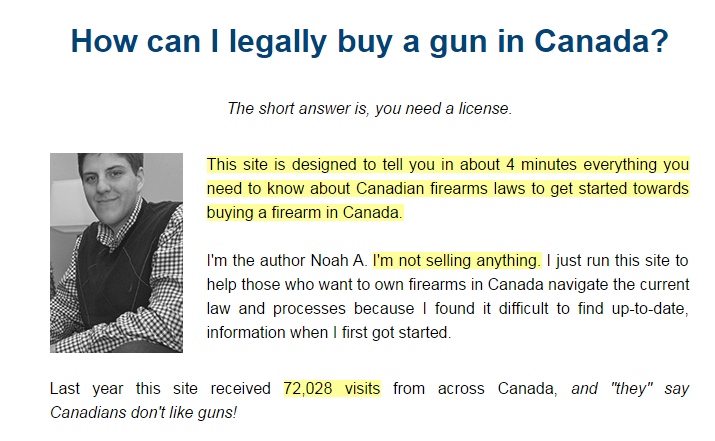 The how-to guide reads: "Basically you just need to pass a short and easy (though very important) safety course and then mail away for a licence. When you're approved you'll get it in the mail and you can go shopping."
It goes on to clarify that, "Yes, handguns are legal in Canada", though owners must pass a second course for owning restricted weapons, called the CRFSC.
"If you can afford the extra couple of bucks, get the restricted licence. It's well worth it", the website reads.
In Ottawa today (Wednesday 22 October), one gunman has been shot dead inside the Canadian parliament building, but police are reporting there may be other shooters on the loose.