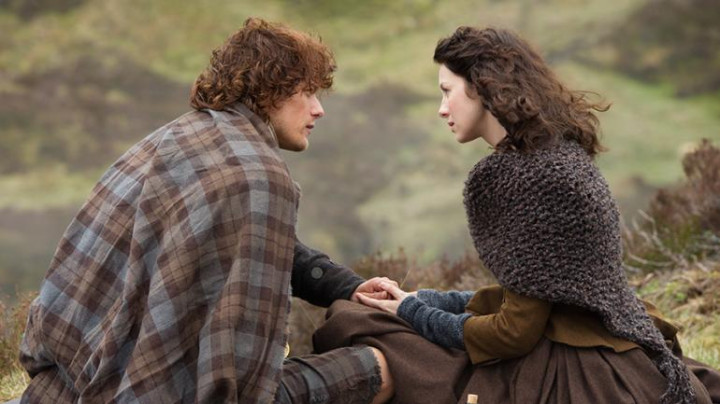 Starz hit TV series Outlander's midseason finale happened to be a cliff-hanger, and fans are waiting for the other half of the season which is set to air this April.
New spoilers hint that Claire will befriend her husband's sister, Jenny Fraser (Laura Donnelly) and the siblings will have an argument when Jamie returns to Lallybroch.
Donnelly told Yahoo News: "It's quite a feisty one," of Jenny and Jamie's relationship.
"They challenge each other. There's no doubt there's absolute love there, but, you know, it's that kind of typical brother/sister slight banging of heads and I think Jenny usually gets the upper hand."
Also, fans can look forward to some Claire-Jenny bonding in the show.
Talking to Fashion&Style, Donnelly explained that she has many scenes with Caitriona Balfe, so it is highly likely that Jenny will amuse her new friend with a few hilarious stories about Jamie as a child.
Meanwhile, Sam Heughan and Caitriona Balfe talk about why Claire and Jamie are the best fictional couple on television.
In a recent interview with TV Guide, Balfe mentions that the reason Claire and Jamie work so well is due to the fact that they were friends first and didn't immediately fall into each other's arms.
Heughan noted that Jamie gets a chance to expand his ideas about morality while Claire learns how to survive in a different time period.
Balfe later sums up the reason why they are the best romance on television saying, "both characters are constantly challenging each other to become better people and they inspire one another to reach for the stars instead of merely resting on their laurels."
Talking about the future of the show, Balfe teases what you could expect to see in the upcoming episodes.
She said: "I think the second part of the season's really strong, and so much happens and you really see the story ramp up ... And the great thing is that you've gotten to know these characters so well over the first eight [episodes], and they've really let this evolve..."
Given the fact that Jamie rushed to Claire's rescue in the midseason finale, it will be interesting to see the bonding between Mr and Mrs Fraser when Season One returns in April!
Here is a tweet of Caitriona Balfe from the Outlander sets:
Just what were you saying @Heughan Bets are it was completely inappropriate !! pic.twitter.com/x0tLDO2GD0

— Caitriona Balfe (@caitrionambalfe) October 11, 2014