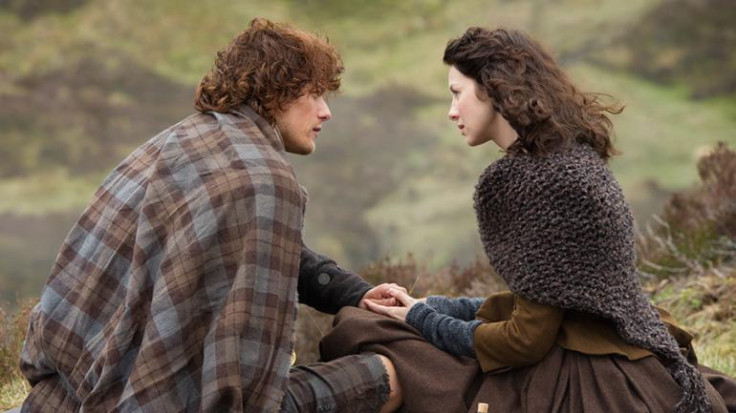 Outlander returns with its second half of Season One on 4 April, 2015.
A new promo released by Starz gives the viewers a glimpse of what to expect when the series returns.
The second half reveals a darker story line, and fans of Diana Gabaldon's original novel (on which the show is based) know that Claire Randall will face the difficult task of choosing between her two husbands.
Towards the end of the novel, Claire has to decide whether to stay back in 1743-era Scotland with Jamie or return to her own time to be with Frank.
It is a difficult decision to make, but in the book her love for red-haired Scotsman wins and she chooses to stay with her second husband, Jamie.
According to Executive Producer Ronald D Moore, the biggest thing is that Jack Randall's place in the story line, both with Claire and Jamie, will come to head.
The Stake is going to change and a lot of relationships will deepen, he added.
"This is the beginning of this epic battle," said Sam Heughan, who plays Jamie of the upcoming episodes.
Jamie and Claire's relationship will really blossom, Heughan added.
"You are really going to love to see the fusion of that," teased Caitriona Balfe, who plays Claire in the show.
Meanwhile, Starz has released an adorable behind-the-scenes video featuring Caitriona Balfe, who gives fans a sneak peek into what it is like being on the "Outlander" set.
The network also released a cute clip for the final day of Outlander Offerings as well.
In the new video, Balfe takes fans behind the scenes and reveals that when the cameras stop rolling, she is busy goofing around with co-star Sam Heughan.
The gorgeous Irish actress revealed that being on set with Heughan is a lot of fun because "the two of them descend into complete adolescence" and constantly joke around, which makes the rest of the cast and crew laugh.