Brianna Brochu, who boasted about "poisoning" her black college roommate by rubbing bodily fluids and mould on her toiletries and food, has avoided a hate crime charge.
On Instagram, Brochu boasted that she had succeeded in driving out Jazzy Rowe, who she referred to as "Jamaican Barbie." She claimed that she "got rid of" Rowe by "putting moldy clam dip in her lotions, rubbing used tampons on her backpack, putting her toothbrush places where the sun doesn't shine", and so much more.
She told police that her actions were meant to "appear funny".
The former University of Hartford student is facing second-degree breach of peace and third-degree criminal mischief charges after she was arrested on 28 October.
University of Hartford President Greg Woodward said Brochu was expelled following her arrest.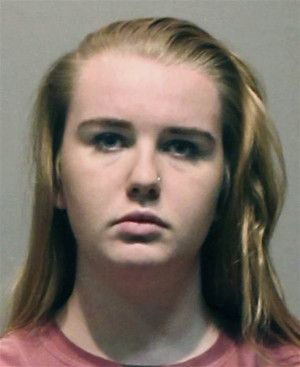 "Let me be clear: the accused student's behaviour was reprehensible and does not reflect the values of our institution," he said. "Let me repeat; racism and hatred will not be tolerated on this campus."
West Hartford police asked prosecutors to charge Brochu with "intimidation based on bigotry or bias".
Brochu's lawyer, Thomas Stevens, argued that her actions weren't racially motivated.
On Monday (18 December), prosecutors decided not to file any additional charges against 18-year-old Brochu.
The decision has been met with fury by civil rights activists and students at the University of Hartford.
Rowe told IBTimes UK: "I feel the court system at the end of the day only protects their own and not all of us in America."
She said the argument made by prosecutors that there is no evidence to prove Brochu's actions were racially motivated was "pure nonsense."
"If the roles were reversed their would be no hesitation, delay or babying with me if I did all of this. Every crime committed I would've been charged for it," she said.
"We are very very disappointed with the prosecutors for not pressing this case hard enough," Scot X. Esdaile, the president of the National Association for the Advancement of Coloured People (NAACP), said. "They are not making this an urgent matter from where we sit.
"We expect [the prosecutors] to fight on behalf of the people of our community," he said. "This is a hate crime. Let's stop playing games. Let's stop pushing this away."
Hartford students have expressed disgust and shock at the prosecutors' decision.
Seth Burke, a third-year student at the university, told IBTimes UK: "I know that I am personally disgusted by what happened to one of our fellow students. I know that myself and many of my peers are concerned with why Brianna did not get charged with any crimes.
"What she did was completely unacceptable behaviour and should never be tolerated. Racism is unacceptable and unwelcome on this campus."
Burke said that the University of Hartford "is not a racist school. I have friends of many different international origins here and I believe as a whole the student body respects one another."
Aliyah Jackson, an African American university alumna, said: "There is no secret that our campus holds true to undercover racist antics, but every act that Brochu committed was out of pure hate.
"There is no rhyme or reasoning behind her intentions other than Jazzy's race, and it's time for our university to take a stand against behaviours like this! NO hate should be tolerated and those who display these behaviours should take rightful accountability."