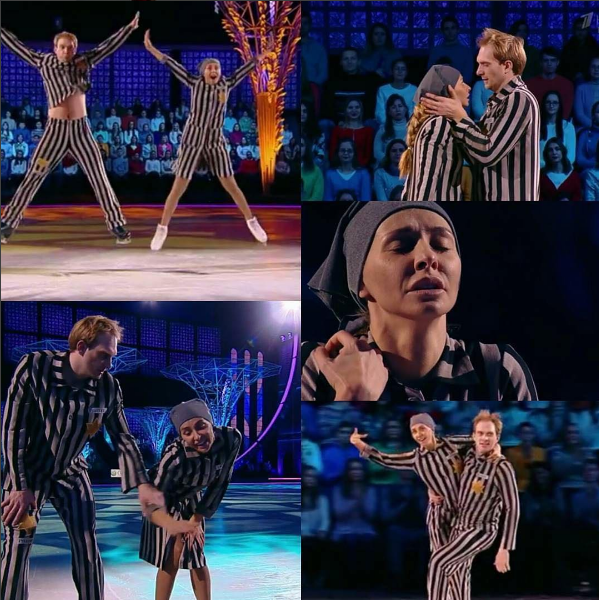 Winter Olympics gold medallist Tatyana Navka, wife to Russian President Vladimir Putin's spokesman, has been condemned for performing a bizarre Holocaust-themed ice-skating routine on Russian television on 26 November.
Navka and her partner, Andrew Burkovsjy, undertook the recital wearing striped pyjamas emblazoned with Star of David badges, smiling as they twirled and mimed gunning each other down – clearly referencing the Holocaust death camps of Nazi Germany that saw around six million Jews killed.
The pair were performing on Ice Age, the Russian equivalent of Britain's Dancing On Ice, broadcast by the Kremlin-owned Channel One.
Despite the sensitive subject matter, Navka, who won Winter Olympics gold in 2006, claimed the piece was based on the Italian film Life is Beautiful, a tragi-comedy released in 1997 about an Italian-Jewish man's efforts to survive incarceration in a Nazi concentration camp.
Perhaps predicting the outrage the performance would cause online, despite warm applause from the studio audience, Navka posted images of the performance on Instagram, alongside numerous messages attempting to explain the routine.
"This is a must-see," she wrote. "One of my most loved routines! It was choreographed based on one of my favourite movies, La Vita Et Bella (Life is Beautiful).
"Show it to your children, you must. P.S. Our children must know and remember about the horrendous time which I hope — God forbid — they will never see!"
However, many across social media were less forgiving of the interpretation, expressing shock and outrage.
US comedian Sarah Silverman took to Twitter, writing: "Oh those whacky Holocaust victims (OH MY GOD)."
Others posted on Navka's Instagram, publicly questioning the decision: "What are you doing??? You have such talent please use it in the right way ... I have love for all mankind especially my Jewish friends," pleaded user m.mcgloin.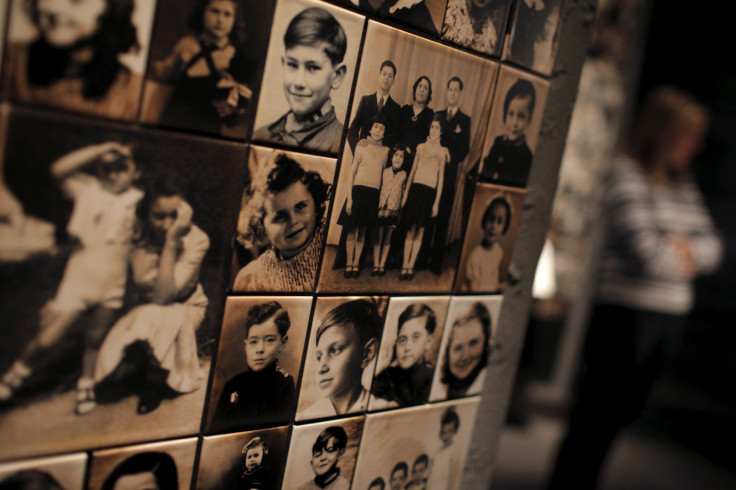 Some took a different view, suggesting the performance highlighted the horror of the Holocaust without passing judgement.
"Respectful performance of a piece of history that we should never forget! Condemn what happened generations ago. Hate those acts, not the messenger," argued ambrasjes.
The debate has since continued offline and comes amid a growing wave of far right populism across the world.
The President of the Russian Holocaust Foundation, Alla Gerber, told Mail Online it is difficult to set the criteria when analysing such a performance.
"This is a very complicated question," she said. "The subject is painful, so bloodied that how do you approach it, under what criteria? First of all, it must not tease. There must not be irony — there shouldn't be a crooked smile."
Yet Gerber equally defended Navka's tragi-comic approach to the issue, at least in intention, "because even in the most horrendous conditions, people continued to live until their last breath. The wrote, they sang, they loved."
Gerber added: "I wouldn't just say straight away, 'Ah, this is so awful.' The Holocaust is not only annihilation . It is a colossal resistance, resistance of spirit, resistance of human qualities, resistance of human dignity.
"If in that dance dedicated to the Holocaust were all of these, then I don't see anything bad in it."
Israeli Culture Minister Miri Regev moved quickly on Sunday to condemn the routine, telling Army Radio: "Holocaust themes are not for parties, they are not for dancing, and they are not for reality shows. Any attempt to present the Holocaust in that way is inappropriate and has no place."