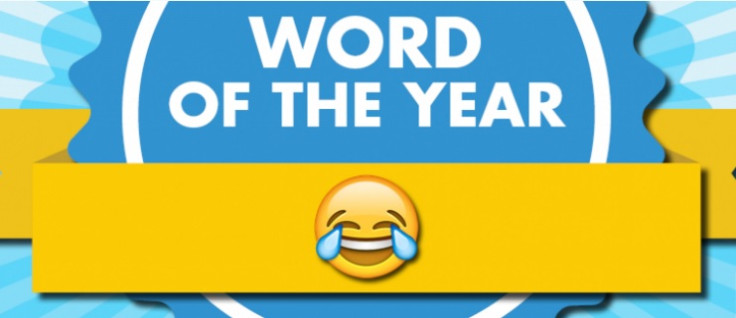 The Oxford Dictionaries' word of 2015 is not even a word. Instead, the award has gone to an emoji called Face with Tears of Joy, a face smiling widely with two cartoon tears streaming from its eyes.
Although other words – real words, made from actual letters – were considered for the award, the emoji was chosen because Oxford Dictionaries said that it best reflected the ethos, mood and preoccupations of 2015.
"Emojis (the plural can be either emoji or emojis) have been around since the late 1990s, but 2015 saw their use, and use of the word emoji, increase hugely," Oxford Dictionaries said in a blogpost.
Oxford University Press teamed up with SwiftKey, which makes smartphone keyboards, to "explore frequency and usage statistics for some of the most popular emoji across the world".
The research found that the Face with Tears of Joy emoji was the most used globally in 2015, making up 20% of all emojis used in the UK and 17% in the US – up sharply from 4% and 9% respectively in 2014.
"The word emoji has seen a similar surge: although it has been found in English since 1997, usage more than tripled in 2015 over the previous year," the blogpost said.
Several other technological terms appears in the 2015 shortlist, including "ad blocker", a piece of software that stops advertisements from appearing on websites and in mobile applications, and dark web, the anonymous part of the internet that is hidden from search engines.
The remaining words shortlisted for the 2015 award, plus their definitions by Oxford Dictionaries, were:
Sharing economy: An economic system in which assets or services are shared between private individuals, either for free or for a fee, typically by means of the internet.
They: Used to refer to a person of unspecified sex.
On fleek: Extremely good, attractive, or stylish.
Refugee: A person who has been forced to leave their country in order to escape war, persecution, or natural disaster.
Brexit: A term for the potential or hypothetical departure of the United Kingdom from the European Union.
Lumbersexual: A young urban man who cultivates an appearance and style of dress (typified by a beard and check shirt) suggestive of a rugged outdoor lifestyle.