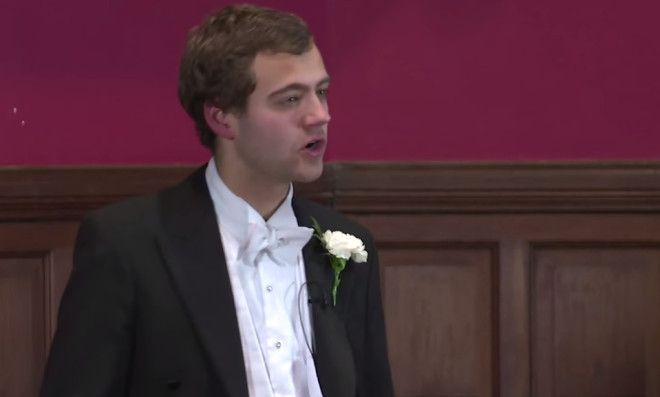 The president of Oxford Union and one of the most prominent students in the UK has been arrested on suspicion of rape and attempted rape.
Ben Sullivan, 21, was arrested by Thames Valley Police and taken in for questioning over allegations involving two women.
The history and politics student at Christ Church College remains in custody for questioning.
An email from prof David Nowell, Christ Church College, confirmed to students that a "junior Member" of the college has been arrested and "may become the subject of interest from the press", reported student newspaper The Tab.
As chair of the world famous Oxford union debating society, Sullivan follows in the footsteps of some of Britain's most powerful political figures, including mayor of London Boris Johnson and education secretary Michael Gove. Former prime ministers William Gladstone, Herbert Asquith and Edward Heath have also held the post as president of Oxford Union.
The third-year student was elected last autumn after running unopposed to serve this term. He is currently taking a sabbatical year from his BA in History and Politics.
It also emerged recently that Sullivan had tried to cover up his involvement in a drinking society known as the "Banter Squadron".
The group, who also went by the name the Red Trouser Brigade, described themselves as an "elite Christ Church drinking society, founded in 1304 by a group of libertines with exceptional chat".
Sullivan tried to secure union funds in order to sue student newspaper The Oxford Tab after it revealed he was a member.
Thames Valley Police confirmed: "We arrested a 21-year-old male today on suspicion of rape and attempted rape He remains in custody."