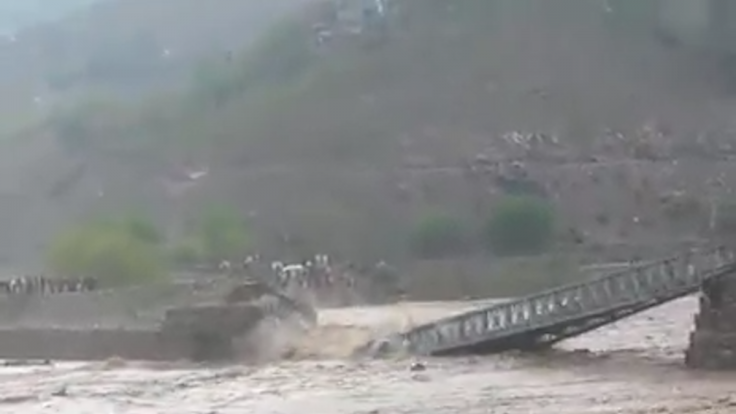 Flash floods caused by heavy rains have killed at least 33 people in north Pakistan, including 31 from a village close to the Afghan border, while many others remain missing.
The rains started in the early hours of 3 July and caused extensive damage to mosques, houses and an army post in Ursoon village, northwest of Chitral district in Khyber Pakhtunkhwa province. In recent years, the province has been battered by floods which some scientists link to climate change.
Osama Ahmad Warraich, deputy commissioner of Chitral, told Al Jazeera that at least 11 people were missing. He said: "Most bodies had been identified; however, some bodies might have been washed away to Afghanistan."
Warraich added that bad weather has hampered rescue efforts as authorities called for helicopters to join the rescue operation.
A spokesperson for the Provincial Disaster Management Authority (PDMA) said: "Flood waters swept away worshippers as they were offering Taraweeh prayers (extra prayers performed by Muslims during the Islamic month of Ramadan). Those bodies have been recovered."
The government of Khyber Pakhtunkhwa province announced financial aid for the victims, which will be paid to the relatives of the dead. The Chitral control room said relief supplies including blankets, tents and food were being provided to those affected by the floods.
Landslides and heavy rains killed at least 127 people in April in Khyber Pakhtunkhwa province, Gilgit Baltistan and Pakistan-administered Kashmir.
Poorly built homes in rural areas of Pakistan are prone to damage and collapse during heavy rains during the monsoon season.
Incessant rainfall and flooding last year killed 81 people and affected at least 30,000 people across the country. In 2010, some 2,000 people were killed and 20 million displaced in what was said to be the worst flooding in recent times.