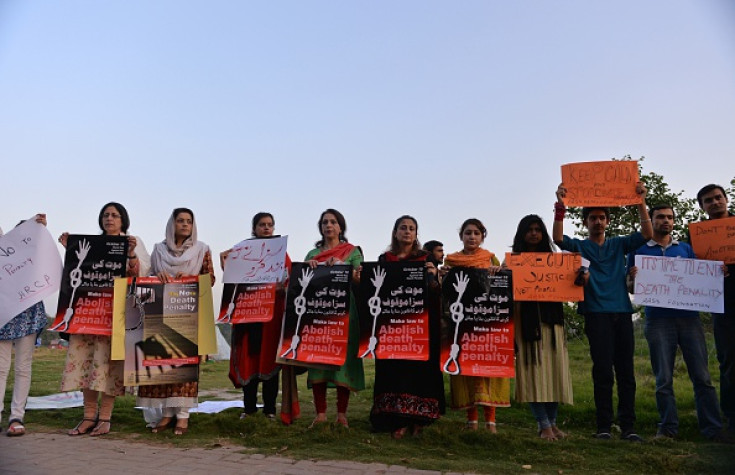 Pakistan announced it will carry out the execution of a paraplegic man charged with murder even after his lawyers argued the death sentence is in breach of both domestic and international laws.
Abdul Basit, 43, is due to be executed on 29 July. He was sentenced to death by hanging in 2009. One year later, he became paralysed from the waist down after contracting tubercular meningitis in prison.
Basit's lawyers submitted a mercy petition to Pakistan's President Mamnoon Hussain, arguing that the execution would amount to cruel and unusual punishment.
The announcement of the execution came as the country issued a last-minute stay for a mentally-ill prisoner, Khizar Hayat, who was due to be hanged on 28 July.
Human rights groups have warned that Pakistan has been killing nearly one person a day after it resumed the death penalty following the December 2014 Peshawar school massacre, in which Pakistani Taliban insurgents killed 150 people, including 134 children.
Kate Higham, from the death penalty team at the NGO Reprieve , warned Pakistan has been increasingly executing mentally ill and disabled people.
"While the stay of execution granted to Khizar Hayat is extremely welcome, it is appalling that the authorities still see fit to hang a paralysed man. Pakistan's wave of executions is nothing but a cruel and pointless spectacle, and must be halted."
In a previous interview with IBTimes UK, Higham also warned that Pakistan has been executing people who were sentenced to death while they were children, making the verdict illegal.
In June, Pakistan executed Aftab Bahadur amid international outrage. Bahadur was arrested and sentenced to death at the age of 15 in 1993, and was executed even after his lawyer tried to introduce new evidence that could prove his innocence.
As with Bahadur's case, the death sentence handed to Shafqat Hussain has also drawn international criticism. Hussain, still on the death row, was sentenced to death in 2004 for allegedly kidnapping and killing a seven-year-old boy.
Hussain, who was 14 at the time of the sentence, was granted a last-minute reprieve in March and in June 2015, when Pakistan stayed the execution following the intervention from human rights groups, which warned Hussain had confessed to killing the boy after being tortured in his jail.