Palastinian children taught 'How to Stab a Jew' says Israeli UN ambassador Danon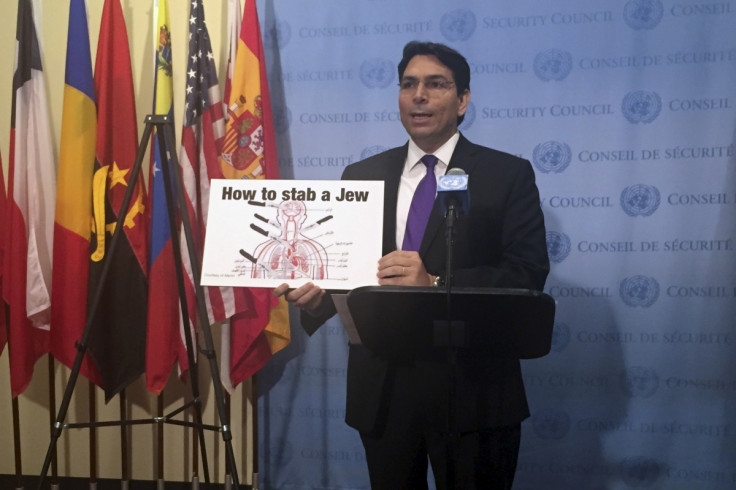 Palestinian children are being taught how to stab a Jewish person and are being "brainwashed" to "hate" according to Israel's new ambassador to the United Nations Danny Danon. He has urged the Security Council to rally against what he has described as an "incitement that fuels terror".
Speaking at the united Nations and carrying a card with a diagram of the human anatomy entitled "How to Stab a Jew" Danon said: "When a Palestinian child returns from school and opens (sic) the TV, he doesn't see Barney or Donald Duck, he sees murderers portrayed as heroes. When he opens a textbook, he doesn't learn about math and science, he's being taught to hate."
Holding up the card to his audience he said: "We talk about a lot about incitement – here you see what Palestinian incitement looks like. This picture is being taught in middle schools, in high schools, in elementary schools." Danon insisted that instead of educating about peace and tolerance, the Palestinian leadership was brainwashing children with "incitement and hate" and added "Palestinian leaders have established an incubator to raise children as terrorists."
He also accused Palestinian president Mahmoud Abbas of leading a dangerous incitement and of "spreading lies". He accused Israel of trying to upset the "status quo" at Jerusalem's holiest site the al Aqsa Mosque.
Richard Silverstein who runs Israeli democracy blog Tikun Olam said on Twitter: "Laughable: UN amb Danny Danon wants no international presence on Temple Mt coz it would 'upset status quo!'"
Danon was appointed Israel's ambassador to the UN in August this year. Prior to taking up his position he was the country's science, technology and space minister.
Danon opposes the creation of a Palestinian state, and was dismissed by Israel's Prime Minister Benjamin Netanyahu from his deputy defence minister post last summer after accusing the Israeli government of inaction over its most recent conflict with Hamas in the Gaza Strip. He has also been critical of the role of US Secretary of State John Kerry's peacemaking efforts in the region, calling him "disconnected" from reality.
© Copyright IBTimes 2023. All rights reserved.