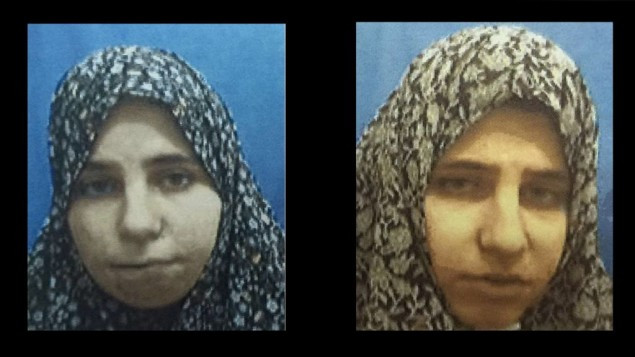 The 18-year-old women are in Israeli custody and have been charged with plotting bomb attacks and preparing explosive devices, according to Shin Bet (Israel Security Agency). "During a search of their home, weapons were seized, including pipe bombs, fertilizers for bomb assembly, a knife, Hamas headbands, and equipment for rioting," the ISA said.
The twin sisters are from the Palestinian village of Shwiha near Tulkarem and were arrested in December 2015.
After interrogating the women, the ISA said: "Diana independently purchased the chemical materials found in her home. By watching online instruction videos, she assembled explosive devices and planned to use them against Israelis."
Her sister, Nadia is alleged to have assised in hiding the explosives in their family home, according to the Jerusalem Post.
"Dania accessed, though the internet, extremist Islamic preaching that encourages women to take an active part in terrorism against the State of Israel and against Jews," the ISA said.
"These strengthened her decision to act." The women have been charged in the Samaria District Court with a number of security offenses, including trading in weapons and the production of an explosive device.
"This investigation once again underscores the motivation that exists to carry out attacks, including among those who do not belong to terror organisations, and including women," added the ISA. The security service stated that young people are increasingly relying on the Internet for instructions on how to make weapons and other terror-related activities.
According to Palestinian Media Watch (PMW), female bombers are honoured as martyrs for the cause. Dalal Mughrabi led the most lethal terror attack in Israel's history, when she and other Fatah (formerly the Palestinian National Liberation Movement) terrorists hijacked a bus in 1978 and killed 37 civilians, 12 of them children.
Ayyat Al-Akhras, at 17 years old, was the youngest female suicide bomber in history. She killed 2 people in her 2002 bombing. Wafa Idris was the first female suicide bomber who killed 1 and wounded over 100 in 2002.
Fatima Barnawi placed a bomb in a movie theater in Jerusalem in 1967 in an attempt to murder movie goers, but the bomb failed to explode. She was arrested and became the first female terrorist to be incarcerated in an Israeli prison.