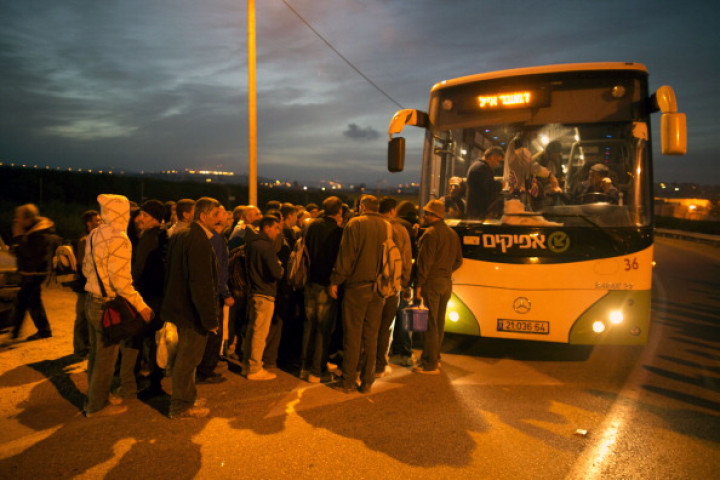 An Israeli rights group has slammed a plan to prevent Palestinians from riding the same buses as Israeli settlers, calling it "racial segregation," local media said on Sunday (26 October).
Presently hundreds of Palestinians, who are employed in Israel, mostly in construction business, travel back and forth from the occupied West Bank on the same buses as the Israeli settlers.
They are made to present their travel permits at the only entry point for Palestinians who work in central Israel at the crossing point at Eyal.
In a new measure that is due to be in place next month, Israeli Defence Minister Moshe Yaalon has said that Palestinians will have to find their separate transportation following the check-in at the Eyal crossing, reported the Haaretz.
The measure, when implemented, will prevent the Palestinian workers from availing the "direct bus services from the central region to the occupied West Bank, and will instead have to arrive at the Eyal Crossing, near Qalqilyah, which is a long way from colonist areas, and travel to their final destinations on alternative transportation from there," said Nasouh Nazzal, a Gulf News Correspondent.
The arguments used by Israeli settlers in the West Bank is that sharing public transport with Palestinians poses a security risk for them.
The Israeli army, on the other hand, contradicts the view and says such segregation is unnecessary in the light of the pre-screening that is already mandatory before travel permits are issued to the Palestinian workers.
"It is time to stop hiding behind technical arrangements... and admit this military procedure is thinly veiled pandering to the demand for racial segregation on buses," said an Israeli rights group B'Tselem, accusing Yaalon.
Palestinians have reportedly referred to the measure as 'racist' and will be submitting an official letter to the World Labour Organisation addressing the issue.
Shaher Sa'ad, who heads the Palestinian General Federation of Trade Unions, Workers and Labourers, said in an interview with Gulf News: "Our letter will show the organisation and the world the Israeli racism and the brutality of the occupation."