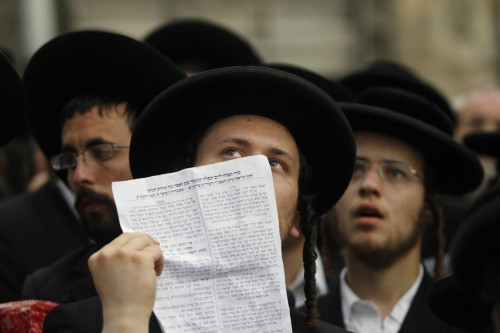 Two Palestinians allegedly planned a killing spree at a wedding venue in Jerusalem by disguising themselves as ultra-Orthodox Jews.
According to a Jerusalem District Court indictment, the suspects and two other Palestinians residents, aged between 19-21, from the East Jerusalem neighbourhood of Jabel Mukaber plotted an attack in Jerusalem's Har Nof neighbourhood.
The shooting rampage was due to take place in an event hall which can accommodate up to 1,500 people in the ultra-Orthodox neighbourhood.
The cell included Anas Ouisat, Basel Abidat, Ahmed Sarur and Amru Abado. Ouisat had previously worked at the venue.
"Ouisat and Abidat decided in December 2013, based on nationalistic motivations, that they would carry out an attack against Israeli civilians in Jerusalem and in coordination with terror groups," reads the indictement.
The suspects planned to enter hall disguised as religious Jews concealing in their garb Uzi machine guns, which were sold to them by a Palestinian arms dealer in the West Bank for NIS 50,000 (£8,667).
In December the group even drove to the hall, named Nof, to survey the site, according to the Times of Israel.
"Nof is a place of celebration," Gilad Pinchas, the head of the wedding hall, told The Times of Israel, "the indictment is a gift from God. Nof has top security conditions, and we will continue to consider security a top priority at our hall for all our events and all our guests."
The prosecution has requested to remand all four to police custody until the end of the proceedings.