Pangu, the popular Chinese jailbreak developer team, has just released its newest version (v1.2) of iOS 9-9.0.2 jailbreak tool with numerous fixes including the Manage Storage bug-fix and the latest version (1.1.26) upgrade to Cydia Installer. Pangu has also released a new Cydia update for Pangu 9.0.x untether package, along with the new Patcyh fix for an issue that prevented users from accessing URL scheme in Mobile Safari.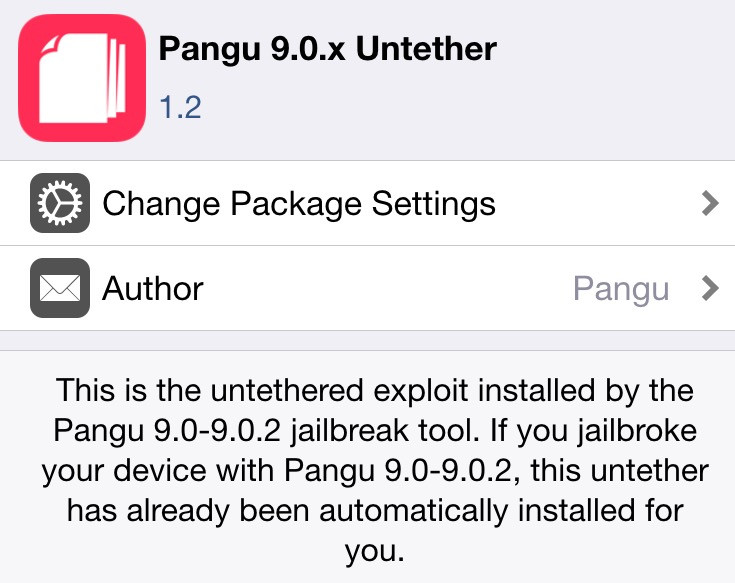 Here is the complete changelog for Pangu 1.2.0:
Bundle latest Cydia with new Patcyh which fixed failure to open url scheme in MobileSafari
Fixed the bug that "preferences -> Storage&iCloud Usage -> Manage Storage" keeps spinning
Those who failed to jailbreak iOS 9 through iOS 9.0.2 earlier can now retry the process by downloading the new Pangu 1.2.0 jailbreak for Windows only. Pangu is yet to release a working iOS 9 jailbreak for Mac OS X, and hence it is necessary to use Windows Virtual Machine for jailbreaking iOS 9-9.0.2 on Macs.
Those who are already jailbroken on iOS 9-9.0.2 can upgrade to Pangu untether package (v1.2) directly via Cydia and there is no need to re-jailbreak the device. Just launch Cydia and refresh the available updates via Changes tab in Cydia.
There is no working jailbreak for iOS 9.1 till date. So, prospective jailbreakers are encouraged to hold off upgrading their devices to Apple's newest iOS iteration. If you are already running iOS 9.1 then you must downgrade back to iOS 9.0.2, which is the last iteration that is jailbreakable with Pangu 9.
Avid jailbreakers who have not been able to jailbreak their device successfully on iOS 9 through iOS 9.0.2 can now do so by using Pangu 1.2.0 tool and our step-by-step guide posted below.
Device compatibility
Pangu 9 jailbreak works with the following iOS 9 compatible devices:
iPhone 6s, iPhone 6s Plus, iPhone 6, iPhone 6 Plus, iPhone 5s, iPhone 5c, iPhone 5 and iPhone 4s
iPad Air 2, iPad Air, iPad 4, iPad 3 and iPad 2
iPad mini 4,iPad mini 3, Retina iPad mini, 1st gen iPad mini
6th generation iPod Touch, 5th generation iPod touch.
Downloads required
How to jailbreak iOS 9-9.0.2 untethered with Pangu 1.2.0 for Windows on iPhone, iPad and iPod Touch
Download the latest version of the Pangu jailbreak using the download link provided above.
Connect your device to computer via the USB cable.
Enable Airplane mode and then disable Passcode from Settings > Touch ID & Passcode.
Turn off Find my iPhone from Settings > iCloud > Find my iPhone.
Launch the Pangu app as Administrator. Right Click on the Pangu.exe and select "Run as Administrator" option.
Wait until Pangu detects your device and then click on the blue Start button.
Click on Already Backup to proceed with jailbreaking process.
It will install the Pangu app along with the WWDC app on your iPhone, iPad or iPod touch.
Your iOS device should now reboot, and Pangu will prompt you to enable AirPlane mode.
At 75% of jailbreaking progress, you will see a prompt to unlock your device and run the Pangu app. At this moment just launch the Pangu app from the Home screen.
When prompted, tap on the Accept button, to give access to the Photos app. Tap on Allow when you get another prompt on your iPhone.
Wait until the jailbreak progress bar reaches 100% and then your iPhone or iPad will reboot.
Once the jailbreak completes, the Pangu tool notifies you that your device is "Already Jailbroken" and you will see the Cydia icon on your home screen.
How to jailbreak iOS 9-9.0.2 untethered with Pangu 1.2.0 on Mac OS X with Windows virtual machine
Step 1: Download and install the 14-day trial version of Parallels Desktop 10, which will come in handy to jailbreak your iOS 9.x device using Pangu.
Step 2: Download Windows 8.1 Enterprise evaluation version (use link above), which comes with 90-day free trial for Windows 8.1.
Step 3: Install Windows 8.1 with Parallels Desktop 10 as follows:
Open Parallels app and then navigate to File > New.
Now click install Windows from DVD or Image file.
Browse and select the Windows .ISO file you downloaded in step 2 and the install process will begin.
Step 4: Once you have started running Windows 8.1 virtual machine on your Mac, install Parallels Tools by choosing the option Action > Install Parallels Tools.
Step 5: Perform the rest of the steps as you would normally do to jailbreak your iDevice running iOS 9.x on Windows.
[Source: iPhone Hacks]