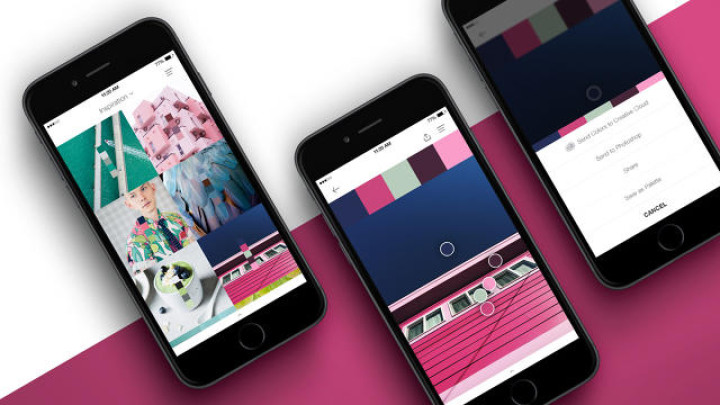 Pantone has launched a brand new, colourful iOS app as part of the company's ambitious push into digital in order to reach out to younger, tech-savvy digital designers. Although Pantone has already ventured into the app sector before with the launch of its MyPantone in 2009, the new app does sport several new features that the company hopes will set it apart from the slew of other design-focused apps as the go-to tool for design professionals and creatives.
"People are designing much more in a digital space," Kathryn Shah, vice president of global marketing at Pantone, told AdWeek. "People are capturing their inspiration, whether it's design inspiration or colour inspiration, on their phones and on social media, everywhere they go. It was time for us to rethink the way we were reaching designers and bringing colour into their world."
Created in partnership with Rokkan Los Angeles, the app features Pantone's massive library of more than 10,000 colours and a dedicated section for research and trend reports from the Pantone Color Institute. The app includes tools that allow you to use an image captured on the go or from a social media account, break it down into its colour composition and create a palette or mood board based on the hues in the photo.
Users will also be able to upload their custom colour palettes to Adobe Creative Cloud and Photoshop from within the app. For fashion designers and users interested in textures and textiles, the app allows you to apply a palette to different graphics, fabrics, interiors and 3D papers, much like a 3D swatch, to see how the colours would look in real-life.
Designers also have the option of sharing palettes and colour inspiration with friends, family and other professionals via social media and browse through that of others for a dose of colour inspiration.
"As creatives, a lot of the inspiration that we find today happens on the go," Rokkan CEO John Noe said in a statement. "With all of the innovative ways that people are using social platforms to share content, it seems natural that Pantone should have a mobile tool for designers to create and share color palettes."
The Pantone Studio iOS app is currently available to download for free on the App Store with more versions set to release for Android, iPad, Windows and Mac OS in the future. Users can access the app's complete set of tools and colours through a monthly subscription for $7.99 or a yearly one for $59.99.