Heart racing new video footage of the Paris shooting attacks at restaurants and cafes on 13 November has been released. The images show one of the Islamic State (IS) gunmen spraying bullets from his AK-47 as unsuspecting diners raced to take cover.
The terrifying images, shared by the Daily Mail, show how a young woman is saved by pure luck when the gunman's assault rifle misfires as he points at her head, giving her the opportunity to run. Later, a 20-year-old waitress is seen wrapping her arms around an older, injured diner while they hide behind the bar as bullets fly past them.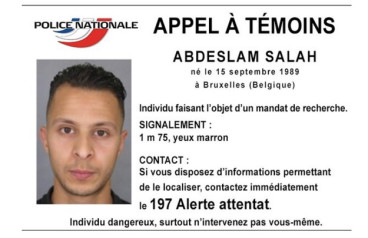 The CCTV footage of at least three cameras is the first to emerge of the deadly attacks that left 129 dead and 352 injured. Staff and diners are seen running for cover and dashing upstairs or downstairs to avoid being shot. Thankfully, none of the diners or staff inside the restaurant died during the assault, which lasted less than a minute.
Two restaurant patrons suffered minor bullet wounds but survived. However, a man who had arrived outside of the restaurant to collect a pizza was hit in the back and died in the street, the Daily Mail reported. Another four who were nearby also died in the attack, while eight were seriously injured.
In the video, the killer is seen dressed casually in a blue T-shirt as he calmly struts around looking for his victims. He briefly disappears before re-emerging at the front of the restaurant, pointing his weapon towards two women. Unlike several of the other attackers that night, the gunman in the video is not seen wearing a suicide vest.
According to the Daily Mail, the gunman responsible for the particular attack caught on surveillance footage is believed to be 26-year-old Belgian national Salah Abdeslam. The suspected terrorist, who is seen climbing into the jihadist's getaway car after the attack, fled Paris and is the now the target of an international manhunt. Abdeslam is not believed to be among the terrorist arrested or killed during the police siege in Saint-Denis on 17 November.