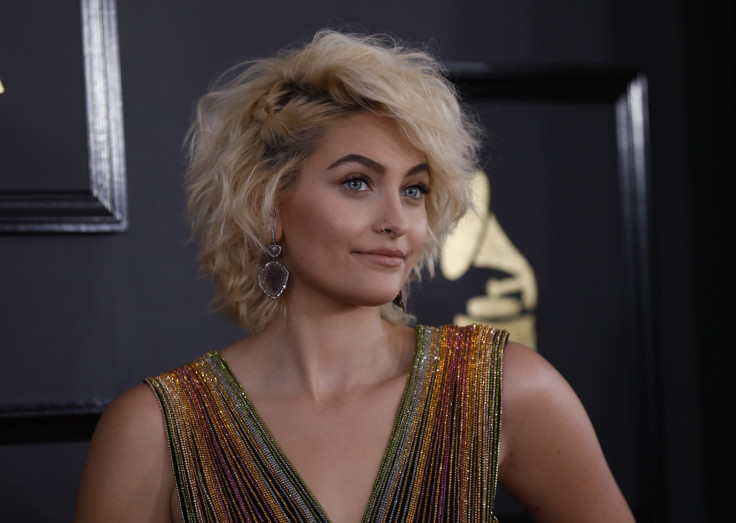 Paris Jackson is at it again. The aspiring model, who has been sending social media into a meltdown with her racy snaps in recent months, has now shared a semi-nude photo to unveil her new tattoo.
According to The Daily Mail, the daughter of late Michael Jackson took to Instagram on Saturday (2 September) to flaunt her new ink, which seems to be spiritual in nature.
A photo published by the news website shows the 19-year-old giving a sneak peek at her tattoo, which is covered in transparent bandages under a low-cut white top.
The next snap shows Paris revealing her new ink, wearing nothing but black pyjamas. She does little to cover her modesty as she is seen showing off her bare breasts while unveiling her new tattoo with a selfie shot. She, however, does strategically place flower emojis to cover her nipples keeping in view the photo-and-video sharing application's strict policy on posting nudity and explicit content.
"Secreting blood n plasma everywhere," she wrote alongside one of the snaps she shared on Instagram.
Paris loves getting tattoos. She recently got matching tattoos with her godfather Macaulay Culkin.
Paris shared a picture of her and Culkin with matching spoon tattoos on Snapchat after they were spotted heading to Tattoo Mania parlour in West Hollywood on 29 July.
In 2016, Paris explained as to why she loves getting inked in a heartfelt post she shared on Instagram.
"The craftsmanship of tattoos will always be a controversy. Some people like them, some people absolutely hate them. I appreciate art, I always have. Especially when that art means something to me," she wrote.
She continued: "Today I can look at my inner forearms and see art that has meaning for me, I don't see a dark past anymore. My scars and past of self-hatred have been covered by loving marks, creativity, ingenuity.. and depth. sure I will always carry my past with me, but I see ink as a way of changing for the better, always improving. They represent strength for me."