At the Belfry in 2002, Paul McGinley ensured his name would always be synonymous with the Ryder Cup, sinking the winning putt as Sam Torrance's team reclaimed the Samuel Ryder trophy is remarkable circumstances against an all-star American dozen.
Colin Montgomerie also has a special relationship with the match. A five-time winner as a player, providing the decisive stroke in 1997, and a victor as captain in 2010 at Celtic Manor, the Scot has near unblemished record in golf's premier team event.
As a candidate to captain Europe again, Montgomerie would have had everything to lose at Gleneagles. Only Tony Jacklin holds a winning record having led Europe on multiple occasions in the Ryder Cup.
Despite history dictating that Montgomerie would have represented a haphazard choice as a returning skipper, the endorsements from Europe's players, including Rory McIlroy, meant The European Tour's Tournament Committee had no choice but to offer McGinley the role.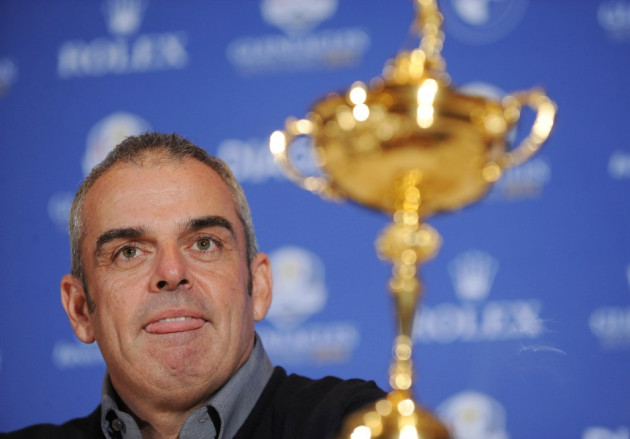 The decision is far from sentimental nor is it blinded by the opinion of those due to participate. Thomas Bjorn made no secret that the players wanted McGinley, who has played the role as vice-captain in each of Europe's last two victories, in place and that the committee's decision is dictated by such an endorsement.
While Montgomerie has everything to lose on home turf, McGinley has Ryder Cup immortality to gain. The Northern Irishman has the chance to join a select list of only five players to have won the Ryder Cup as a player and a captain.
McGinley will play the perfect foil to American skipper Tom Watson, whose profile will undoubtedly hog the headlines. No-one is doubting Watson's Ryder Cup pedigree, but without any involvement in the match since guiding the US team to victory in 1993 as he occupies a permanent role on the Champions Tour, one might question his relationship with the modern-day PGA Tour.
The reality is Watson faces the greater task in forming a team capable of snatching back the Ryder Cup. Roles are reversed from yesteryear, with Europe dominating the world rankings, perhaps piling the pressure on McGinley to succeed but swelling scrutiny on Watson's picks.
But perhaps that is for another day. We've been handed a match-up between two captains with differing personalities. Expect the tension and excitement to remain unaffected.