After their fairly public split back in early 2014, Paula Patton has declared she finally feels like "a real woman" since finalising her divorce from singer Robin Thicke in March 2015. On the Meredith Vieira show, the 39-year-old said that she is finally starting to grow up now she is a single woman again.
She stated on the show: "I live in a place of gratitude and growing up in many ways I think, I moved from my parents' house to moving in with Robin and now I'm like, becoming an adult at this old age".
The Mission Impossible: Ghost Protocol actress first began dating the Thicke when she was just 14 and believes that she is finally becoming a grown-up in her own right after originally spending most of her developing years with Thicke, 38.
Despite their separation being a long time in the making, Patton confesses she's found the process hard. "It's been a long year and a lot of challenges but I'm getting used to change" she told Vierra.
She revealed the hardest thing about the official break-up, however, is leaving her son when she has to work now. "I took a lot of time off to be with him and then I had to pack for a trip because I had to go to work and he said, "Mommy, I don't want you to go to work."
"It's the challenge of being a working mother and it's the first time he ever said that to me because I did work when he was a baby but now he is more aware of everything, so what are you going to do? It's sort of the trials and tribulations of being a woman. Right?"
Patton and Thicke have joint custody over their son and share their time spent with him.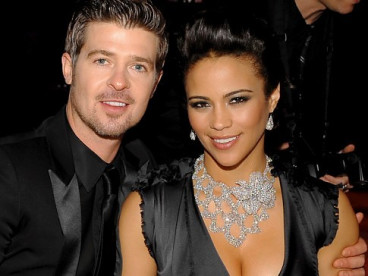 The pair married back in 2005 and after nine years of marriage, the couple announced in a mutual statement to People that they will "always love each other and be best friends" but were no longer romantically involved.
Throughout the previous year, there had been much speculation as to whether their marriage was on the rocks after Thicke's controversial Blurred Lines music video that featured several nude women, was allegedly supposed to have upset his wife.
More theories that the parents of one were having marital problems emerged when Thicke engaged in a risqué performance during the VMA's 2013, with a-then-21-year-old, scantily-clad Miley Cyrus. The routine was said to leave Patton feeling disrespected and led to her being photographed without her wedding ring on, just after the incident.
Thicke has since been linked to 20-year-old model, April Love Geary. The pair have been an item since November 2014.