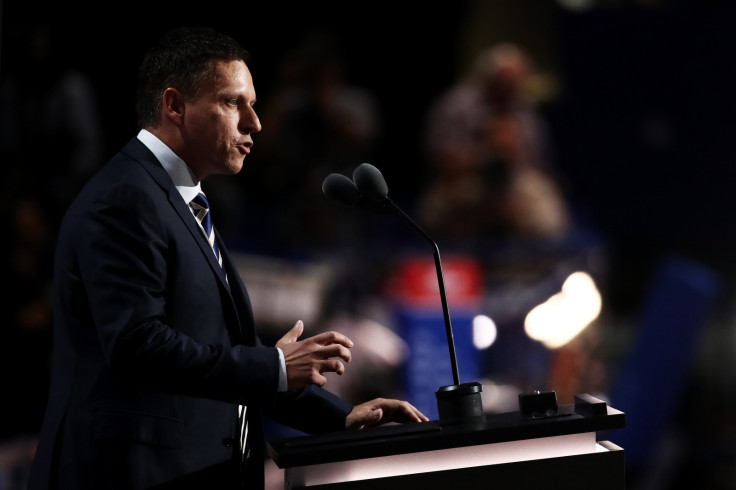 Paypal co-founder and Facebook board member Peter Thiel has apologised for his controversial comments on rape published in a decades-old book co-authored with Zenefits CEO and former PayPal COO David Sacks. The 1995 book titled The Diversity Myth: Multiculturalism And Political Intolerance On Campus included multiple shocking arguments against taking date rape seriously including calling it "nothing more than belated regret" on the woman's part.
Excerpts resurfaced after The Guardian reported on the 320-page book on Friday that examines "the debilitating impact that politically-correct 'multiculturalism' has had upon higher education and academic freedom in the United States."
In the book, Thiel and fellow Stanford alumnus Sacks discuss a 1991 case in which a 17-year-old Stanford freshman said she was raped while under the influence of alcohol.
"But since a multicultural rape charge may indicate more than belated regret, a woman might 'realize' that she had been 'raped' the next day or even many days later," one passage reads. "Under these circumstances, it is unclear who should be held responsible. If the alcohol made them both do it, then why should the woman's consent be obviated any more than the man's? Why is all the blame placed on the man?"
In another passage, they wrote that the definition of rape had been erringly expanded to include "seductions that are later regretted." They also added that the purpose of the rape crisis movement "seems as much about vilifying men as about raising 'awareness.'"
Discussing race and diversity, the duo wrote "real diversity requires a diversity of ideas, not simply a bunch of like-minded activists who resemble the bar scene from Star Wars."
Both the authors have issued apologies for their comments.
"More than two decades ago, I co-wrote a book with several insensitive, crudely argued statements," Thiel said in a statement to Forbes. "As I've said before, I wish I'd never written those things. I'm sorry for it. Rape in all forms is a crime. I regret writing passages that have been taken to suggest otherwise."
In an interview with Recode, Sacks said his former views and comments do not reflect the person he is today.
"This is college journalism written over 20 years ago," Sacks said. "It does not represent who I am or what I believe today. I'm embarrassed by some of my former views and regret writing them."
The book's recently resurfaced content follows Thiel's reported $1.25m (£1.03m) donation to Republican candidate Donald Trump's presidential campaign — a move that has sparked a bitter debate among his peers in Silicon Valley. Thiel's donation came after several women from across the US accused Trump of sexual assault.
Following the New York Times report on the donation, many called for Y Combinator, where Thiel is a part-time partner, and Facebook to cut ties with the venture capitalist. However, Facebook chief executive Mark Zuckerberg defended Thiel saying the company would not remove a person from the board simply because of their political views and "there are many reasons a person might support Trump that do not involve racism, sexism, xenophobia or accepting sexual assault."
Amazon CEO Jeff Bezos also said he would not ask him to leave if he was on Amazon's board either. However, he did note that Thiel is a contrarian and "contrarians are usually wrong."