Firstly, there's good news and bad news. Presuming you want the bad news out of the way, Tom Hardy won't be starring in the first episode of Peaky Blinders' third series tonight, so we can all let a little sigh of dismay out now. Fortunately, most of the other delicious Brummy hoodlums are back, including the apple of our eye, Cillian Murphy. Hurrah!
It's only a matter of hours before the Irish dreamboat will be piercing our TV screens with those blue eyes clearer than a cerulean sky, but our Tommy Shelby (Murphy), is well and truly taken – sorry ladies.
Viewers might even be treated to seeing the callous mobster's lucky fiancée as the series opens up in the year of 1924 and the bride saunters in, wearing a black veil – already mourning her life of terror and crime that awaits her, probably– but will her face be revealed? You'll have to make sure you get home on time tonight following those after-work bevvies to find out.
An ever-ruthless Tommy ended the second series on a high as one of the most feared gangsters in Birmingham. He also announced his engagement and showed his enemies he's a leader and a force – albeit a dubious one – to be reckoned with. He's pretty much the Don Corleone of post-First World War Birmingham, to put it blankly.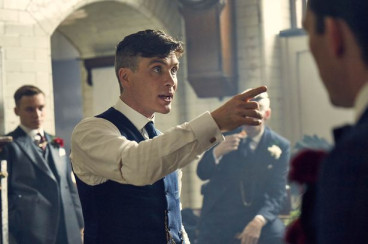 So will things go to pot now that life is going smoothly on the dark side? The tumultuous vicissitudes of a late 19th-century gangster rise to the surface as Mrs Shelby's big day isn't the big white wedding she's always dreamed of, since Tommy is sucked into more dodgy business.
Putting his wedding aside, Tommy drags his gang of razor-blade heads to the kitchen where he gives them a passive-aggressive pep talk on having a touch more sophistication about them. That means eschewing trouble, fights and sniffing the old Charlie. That'll last a good five minutes, then.
The Shelbys' family life will be turned upside down when a dangerous visitor rocks up and Tommy finds himself in a bit of a pickle, and it's probably the most life-threatening pickle he's ever been faced with. We see how the scheming yet charming criminal plays a precarious game with dodgy business partners, and how hunky Hardy returns with a surprise as the charismatic and conniving Alfie Soloman later in the series.
Peaky Blinders airs on BBC2 tonight at 9pm.