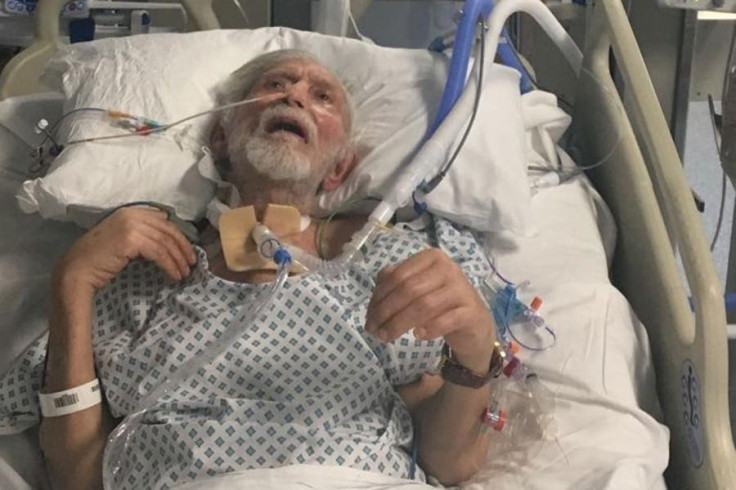 Police are hunting for three men caught running from the scene of a vicious robbery that left an elderly man fighting for his life.
Ahmet Dobran, 82, who walks with a cane, was beaten to the ground by three men, who stole his gold bracelet and a Longines watch.
Dobran, who already has cancer and Parkinson's, suffered a broken back in three places from the street assault, which took place in Newham, east London, last month.
His injuries came after one of the men grabbed him by the neck while another rained blows on his back and his arms.
Dobran remains in critical condition in hospital as doctors bring him in and out of an induced coma. The elderly man is only able to breath via a tracheotomy, with medics unsure whether this will be a this permanent condition.
Police have released fresh CCTV pictures of his attackers as they appeal for information leading to the arrests of the three suspects.
Metropolitan Police investigating officer PC Sam Bush said:"How three grown men can be so vicious in attacking and robbing an 82-year-old man with a walking stick is beyond comprehension.
"The men still have not been identified, and I believe that they are not local to the area of East Ham, or even Newham.
"Someone knows who the suspects are we need to catch them before they target anyone else, as they clearly have utter disregard for their victims and do not hesitate to use violence."

In a statement Dobran's family added: "We are all devastated by it all. This attack has taken his independence away. Our father is not an indoor person, and now he will be stuck in doors for the rest of his life. We are appalled at how someone can do this to an old man.
"He is now unable to fly to Cyprus to see the rest of his family, he used to go there a couple of times a year.
"Can someone please come forward with information regarding who done this to our father, someone knows who they are. The people who did this could do this to someone else, with no guilty conscience."