A wealthy investment banker led police on a 20-minute chase through central London on his bicycle after refusing to stop after he cut up a patrol car.
Tanneguy Marie De Carne, 53, a senior figure at banking giant Société Générale (SG), was fined almost £2,500 ($3,060, €2,800) by a judge who told him that "people do not like cyclists" and that he had damaged their reputation further.
The manic chase on, 21 March, saw De Carne run several red lights and cycle furiously along busy pavements through the City as he desperately tried to escape back to his £2.7m home in St John's Wood, north London.
The French-national ignored the police car's flashing blue lights and officers' repeated orders for him to stop.
He even did a frantic "sweeping" U-turn when the police car attempted to cut off his escape route by stopping in front of his path.
De Carne pleaded guilty to dangerous cycling and failing to stop for police at City of London Magistrates' Court on Wednesday (26 October).
He said the incident happened because he "panicked", adding that he regularly cycled home to relieve pressure from his fast-paced city job.
Chair of the bench, Catherine Hobey-Hamsher, said: "The offence was sustained in every possible way. A reasonable person would have stopped immediately."
Commenting on De Carne weaving in and out of pedestrians as he cycled along pavements, she added: "It is a silent danger, coming up behind people – they have no idea. And, above all, it diminishes the really rather low esteem cyclists already have. People do not like cyclists, and you are doing nothing to enhance their reputation."
Both De Carne's actions and the judge's disparaging comments about cyclists were later condemned by the charity Cycling UK. The organisation said it would write to City of London Magistrates' Court to complain that a judge with such views should not be presiding over cases involving cyclists.
PC Neil Hossack told the court De Carne's attempted cycle getaway began on Mansion House Street, in the City of London, at about 7.25pm.
He cycled through a red light before suddenly changing direction, riding through the central reservation and across the path of a marked police car, forcing it to break suddenly.
PC Hossack said: "A police car followed you, in order to speak to you about your cycling. As it pulled behind you, you did not stop."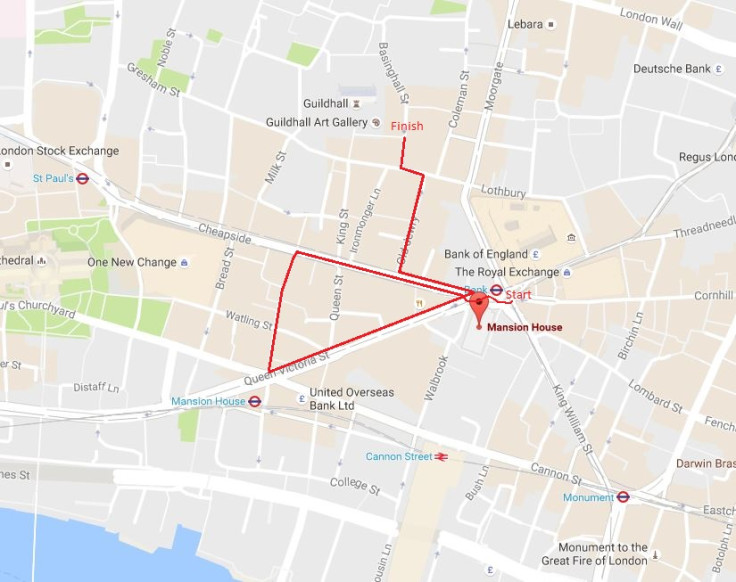 The senior banker rode through another red light as he tried to escape the blue flashing lights of the police car, before turning down a side street full of pedestrians. When an officer got out of the police car to shout at him to stop, he circled back towards Mansion House Street and cycled "furiously" on a footpath full of people leaving busy bars. He evaded officers once more, doing a U-turn after being cut off by the police car, before eventually stopping.
PC Hossack said: "As you cycled again on to the footpath, the police officer shouted at you to stop, which you finally did so."
De Carne, who is global head of high yield capital markets at SG Corporate and Investment Banking, said: "I panicked. I thought I could continue cycling and I lost control. I am ashamed of what I have done, and it's a humbling experience, and again I am sorry.
"I am fortunate, obviously, that nothing serious happened at that time of evening, and it's been a stressful experience. I stopped as I realised the gravity and the reckless behaviour I was performing, and I spoke with the officers."
He said that he had never been to court before and had a clean driving license. He has also completed a cycle safety course since the incident.
De Carne was fined £1,250 for dangerous cycling and a further £1,000 for failing to stop. He was also made to pay £85 in court costs and a £125 victim surcharge.