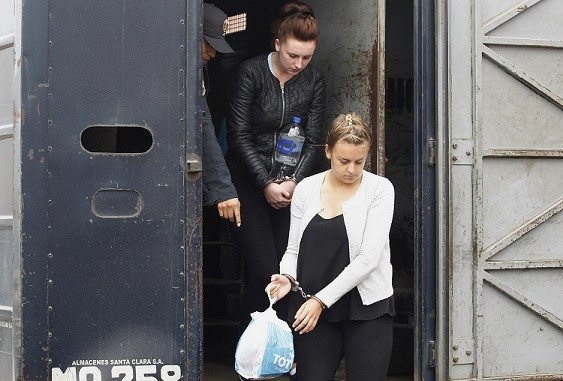 Two British women have pleaded guilty to attempting to smuggle £1.5m of cocaine out of Peru.
Melissa Reid, 20, from Lenzie, near Glasgow, and 20-year-old Michaella McCollum from Dungannon, Northern Ireland, were arrested in the Peruvian capital of Lima after police found more than 11kgs (24.2lbs) of cocaine in their luggage.
Both women originally said they were forced to carry the bags by Colombian drug traffickers and did not know the luggage contained cocaine stuffed inside food packages.
They each face up to six years and eight months in jail because they did not contest the charges. The maximum sentence is 15 years. They will be sentenced on 1 October.
Reid was the first of the two to confirm they would plead guilty. She told the Daily Mail: "Pleading guilty is going to enable me to get back to my family in Scotland sooner rather than later.
"I do not want to be in jail until 35 - I can't get back those years."
The women offered up their pleas at a private hearing in a makeshift courtroom at in Calloa.
The pair were arrested on 6 August as they attempted to board a flight to Madrid. They claimed that drug traffickers had threatened to kill them if they did not carry the bags onboard and insisted that they did not know what the luggage contained.
They told police that they had been working in Ibiza but had not met each other until they were kidnapped by a South American drug cartel and separately taken to a safehouse in Madrid before being flown to Peru.
Reid and McCollum also said they were forced to take pictures of themselves together to convince border control officers and hotel staff that they were ordinary friends travelling together.
Chief prosecutor Juan Mendoza Abarca described their story as "incredible" and believed the pair had been told what to say.
He said: "They staged this whole thing from the beginning because they knew it was possible they would get caught and if they did get caught they had the excuses really well planned.
"It's very obvious they were trained in what to say if they were caught. They were prepared in every sense."
It has been suggested that the pair may be able to serve some of their sentence in the UK. The Foreign Office confirmed an agreement between the UK and Peru.