Peru urges Donald Trump to extradite its former president Alejandro Toledo
An international warrant has been issued against Toledo, but he has not been deported due to legal complications.
Peruvian President Pedro Pablo Kuczynski has urged US President Donald Trump to extradite its fugitive ex-president Alejandro Toledo. In a phone call between the two leaders, on Sunday (12 February), the leader of the South American country asked Trump to "evaluate" the situation.
The former president has been accused of accepting $20m (£16m) in bribes from Brazilian construction company Odebrecht. He is reportedly living in San Francisco, California along with his wife Eliane Karp.
A judge in Peru had issued an international warrant against Toledo, but efforts to get him deported have been stalled due to legal complications.
According to officials in Peru, the US is unable to deport the ex-president until more information about the case is shared with the country. Authorities in Lima are concerned that Toledo could flee to Israel where his wife has citizenship.
However, the Jewish state said that it would not allow Toledo to enter the country. In a statement, Israel's foreign ministry said that the former Peruvian president will not be given entry until "his affairs in Peru are settled".
Toledo, who is now a visiting professor at Stanford University, ruled the country from 2001 to 2006. However, after the alleged bribery incident came to light a reward of $30,000 has been offered for any information that could lead to his arrest.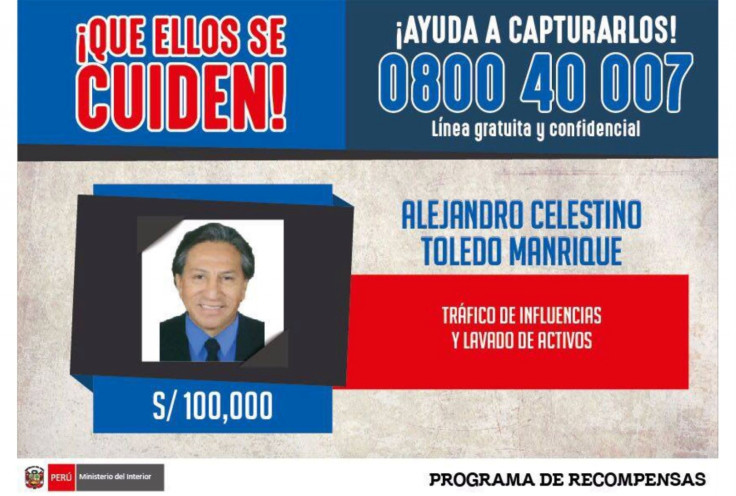 Odebrecht, the company at the heart of the corruption scandal acknowledged in a plea deal to the US Department of Justice that it paid bribes of nearly $800m to governments across South America. It paid almost $29m to get contracts in Peru between 2005 and 2014.
© Copyright IBTimes 2023. All rights reserved.