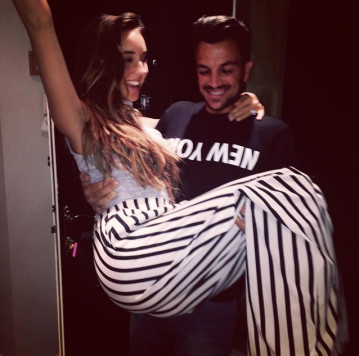 Peter Andre has shared his first candid image of himself and his new wife Emily MacDonagh since they got married last week in Exeter.
Taking to his personal Instagram account, the 42-year-old uploaded the happy snapshot with the excited caption reading: "Carrying my new wife over the threshold :))))"
The post sports one of the first photographs seen of the newlyweds online since they tied the knot on the 11 July. The only other image that was circulating over social media was the couple's cover of OK! magazine ahead of their wedding special.
Speaking about his bride in the accompanying issue, Andre gushed: "I feel like the luckiest man in the world as I have married the most beautiful girl in the world, who is also my best friend.
"I have my soulmate for life by my side."
"Seeing Emily for the first time in her dress was incredible. She took my breath away. She's the most beautiful bride I've ever seen. I couldn't help but well up!"
The pair officially started dating in 2012, but met two years previous when McDonagh's father performed emergency surgery on the Mysterious Girl singer to remove kidney stones. Two years into their relationship, they had their first child together, a daughter named Amelia.
The current issue, which hit news stands yesterday (14 July), isn't the first time Andre has publicly shared photographs from his wedding with the publication. When he married television personality and glamour model Katie Price in 2005, the same magazine showcased exclusive images from their big day. However, the events [and the couples] looked wildly different from each other. While this time Andre opted for a navy blue suit and his usual short hair, when he wed Price, he donned a white suit and shoulder-length hair extensions.
McDonagh, 25, appears to have gone for the more simple approach too, wearing a traditional white dress with understated make up, unlike Price who wore a more flamboyant pink gown and tiara.
Despite marrying last week, Andre and MacDonagh are yet to share a honeymoon together after they were forced to postpone due to Andre becoming involved as a witness for a court case over a contract dispute between his former TV producer Neville Hendricks and ITV2.
Hendricks is reportedly seeking £549,060 ($858,317, €778,956) for damages and costs from the channel following its cancellation of his show involving reality star Kerry Katona.