Paedophile bishop Peter Ball, who was jailed for 32 months in October 2015 after admitting he abused 18 young men between 1977 and 1992, was allowed to escape with a caution after the original investigation in the early 1990s under a deal allegedly agreed by police and the Church of England.
However, a 29-page report written by detectives investigating the allegations of sex abuse in 1992 and 1993 warned the then Bishop of Gloucester had "been less than truthful".
"He has hidden his sexual desires behind the role of religion," detective inspector Wayne Murdock and acting detective sergeant Andrew Wasley wrote in the dossier, which was obtained by The Sunday Times.
After meeting with the legal team of Ball, 83, the officers recorded that "the defendant would be prepared to accept a 'formal caution' for an offence of gross indecency", would resign from the church and go abroad and do missionary work.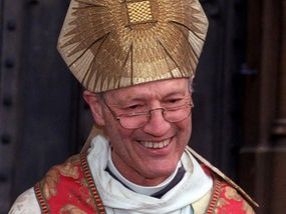 Charging Ball would "counter any possible suggestions of an establishment cover-up", Murdock wrote, although he noted it would "probably have a devastating effect on the church, which is already in turmoil".
During the course of the investigation, the officers held "detailed discussions" at Lambeth Palace, the home of former Archbishop of Canterbury George Carey, now Lord Carey, according to the report that was obtained using a Freedom of Information request.
There, "it was suggested that any form of church investigation instigated by the Archbishop of Canterbury would be 'fairly low-key and private'", although the officers said there was "considerable doubt whether the mechanism exists within the church to tackle this particular problem", the report said.
While Ball did resign after being cautioned, rather than going abroad, it appears he remained in Britain and was granted permission to officiate as a priest again in 1995. He continued to work at churches until 2010. One of his victims, Neil Todd, killed himself in 2012.
Justin Welby, the current Archbishop of Canterbury, has announced an independent review of the church's role in Ball's case.
IBTimes UK contacted Gloucestershire Constabulary for a comment but was told no one was available to speak on the matter at the time of publishing.