Arsene Wenger believes Manchester United midfielder Michael Carrick should win the PFA Player of the Year award, ahead of his former captain Robin van Persie. The 31-year-old Carrick and 29-year-old van Persie are joined on the list of nominations by Luis Suarez of Liverpool, Gareth Bale of Tottenham and the Chelsea duo of Juan Mata and Eden Hazard.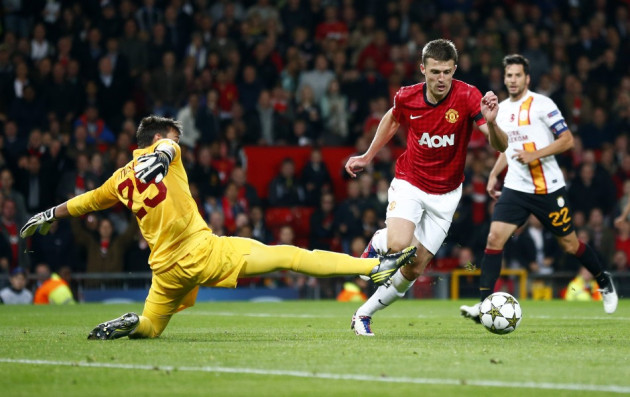 "I would give it to Carrick. He could play in Barcelona as he would be perfectly suited to their game. He has good vision and is an intelligent player and it is for what he has achieved in his career," Wenger explained.
The Frenchman insisted the PFA should look beyond traditional statistics; Carrick has scored only once in 31 Premier League games this season, with a hand in four others.
"Robin stayed for a while without scoring. The vote happened during that period so that could go against him. Suarez has bitten into his reward! You also have Gareth Bale but I think Carrick is an underrated player in England," Wenger continued.
"Sometimes not only should the goal scorer be rewarded but the real players in the heart of the game. Carrick deserves it. I would choose Carrick as Robin had it last season," Wenger stressed.
Wenger on United Tie
Meanwhile, Wenger's immediate concern is Sunday's Premier League game against United. The Gunners are third in the league, with only two points back to Spurs in fifth. Chelsea sit in between the north London rivals and all three clubs are fighting for two remaining Champions League positions for next season.
Sir Alex Ferguson is unlikely to be overly troubled by this game. United have already won the Premier League title and the Scot has since confirmed he could rotate his side and give fringe players some game time.
In addition, Wenger has also confirmed his side will give the newly crowned champions a Guard of Honour.
"In life it is about 'Do as well as you can - and if someone is stronger than you, then respect him. It is not easy. But I am proud to work in England where the culture is to respect the winners," Wenger concluded.