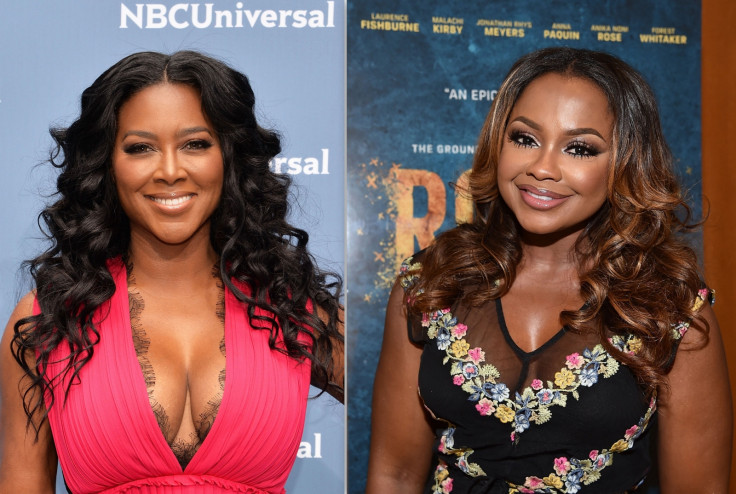 Phaedra Parks reignited her feud with Kenya Moore about flirting with Apollo Nida and lashed out at her in the episode 17 of Real Housewives Of Atlanta season 9 titled Aloha And Goodbye.
Even as the ladies tried their best to be nice to each other, things turned ugly on the last night of their Hawaii vacation as Moore staged a playful "divorce party" for Parks and Cynthia Bailey. The two recently parted ways from their respective husbands Apollo Nida and Peter Thomas.
Moore told Parks upon her arrival, "We're having a celebration for you and Cynthia today. It's the 'I do, I did, I'm done!' It's a rebirth party." But Nida's former wife seemed less than interested in the celebration as her divorce was recently finalised.
Parks explained how this party celebrates destruction and said in the episode, "These women are over here like hyenas, mocking the sacrament of marriage. I want no part of this. Do they not respect the institution of marriage and what it stands for? Who makes light of that? They celebrate destruction. And I've made it very clear: I do not care to speak with anyone outside you about anything going on with me personally."
"I don't want to celebrate my children losing their father. It's just tacky," she added. The housewife attacked Kenya for flirting with her ex husband and pointed out, "When I was married, Kenya continuously flirted with husband. So no wonder she's celebrating. It's just on a whole another level of skanky'. Maybe she's happy? Maybe she can finally have her chance with Apollo."
Things took a turn for the worse when Porsha Williams read out texts sent by Parks, where she called Moore "disgusting and disgraceful". Parks mentioned, according to Williams, "I'm appalled that they would think the breakup of a family is a cause for celebration. And with the host being the trifling woman who was texting my husband? Disgusting and disgraceful."
Moore did not take her criticism lightly and hit back saying, "Is it to say I'm somehow responsible for your marriage breaking up? That's some b***s. Really Phaedra? After everything we've been through you want to take me back two years to some b****h?"
Later, she confronted Parks directly by meeting the mother-of-two in her hotel room. She said, "First of all, I know about the text you sent and it was disgusting. You called me trifling and you called me a name and I didn't deserve that. And you brought up something about the texts. Those text messages happened over two years ago. I'm not trifling!"