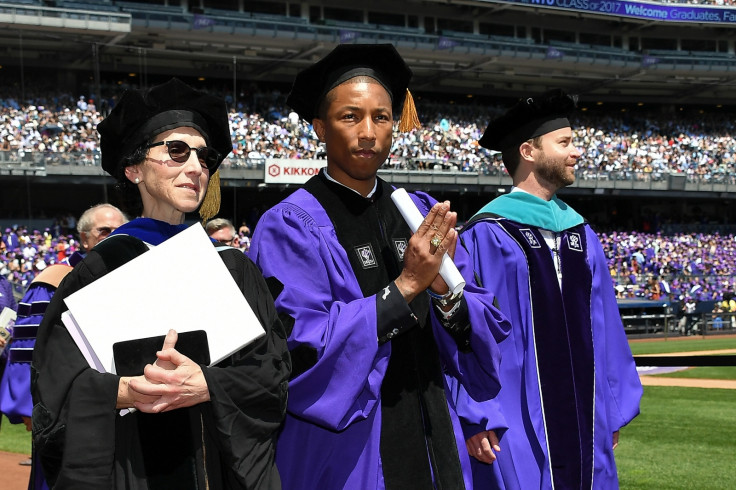 Pharrell Williams was selected as guest speaker at the New York University's 2017 commencement, and the music artist used the opportunity to advocate gender equality and the need for improved education.
Speaking to the audience of students, parents and faculty at the Yankee Stadium on 17 May, Williams credited his mother for encouraging him to keep educating himself and went on to stress the importance of helping women overcome societal roadblocks.
"As you find ways to serve humanity, it gives me great comfort knowing this generation is the first that understands that we need to lift up our women," he said. "Imagine the possibilities when we remove imbalance from the ether, because it's imbalanced right now. Imagine the possibilities when women are not held back," he said adding the need to unravel deeply entrenched laws, principles and misguided values that hold women and the human race back.
"This is the first generation that navigates the world with the security and the confidence to treat women as equal. You guys and gals are the first ever. I'm going to say that again, you guys are the first ever. Our country has never seen this before. And it makes some people uncomfortable. But still I say, just imagine the possibilities."
The Happy hitmaker, a former artist in residence at Tisch School of the Arts, was awarded an honorary Doctor of Fine Arts degree from the university at the event. "I'm very grateful. My mom is a lifelong educator, so this is gonna be a really good look for me," he said.
Finishing up his remarks, the 44-year-old singer-songwriter directed his words at possible future presidents in the crowd. "I know that somebody out there right now, in this class, just might occupy the White House one day," Pharrell said. "And let me be clear, not red and not blue, but maybe purple, like NYU."
Check out Pharrell's complete speech below: