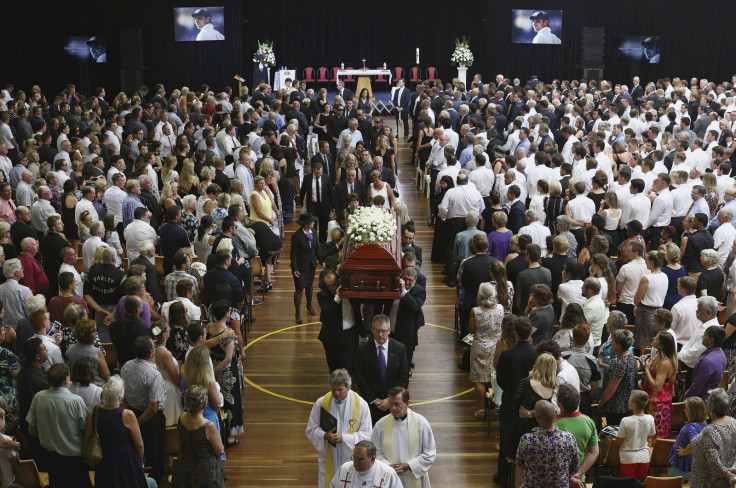 Thousands of people poured in to participate in the funeral of Australian cricketer Phillip Hughes in Macksville, New South Wales.
The 25-year old batsman died at a hospital after he was hit by a bouncer during a match in Sydney.
In the ceremony, Michael Clarke, the Australian team captain broke down at the loss of his former team-mate and said: "Phillip's spirit, which is now part of our game forever, will act as a custodian of the sport we all love."
"We must listen to it. We must cherish it. We must learn from it. We must dig in and get through to tea. And we must play on. So rest in peace my little brother. I will see you out in the middle, "the teary and emotional Clarke said as he struggled through his address.
The funeral service was broadcast live on television channels. Mourners included Hughes's family members, friends, and several former and current cricketers from across the world.
Prime Minister Tony Abbott also participated in the 80-minute service.
Hughes's sister Megan, in her tribute said: "I'm sorry you cannot be here with us any longer, but I promise that all the dreams and thoughts we had about the future I will continue in your honour."
"There won't be a day that goes by that I won't think of you, I promise I will talk to you every day and keep you company up there."
Chief Executive of Cricket Australia James Sutherland also addressed the funeral.
Thousands of locals are present at the funeral procession to the cemetery, which is passing through the town of Macksville in Australia's east coast.