Philippine President Rodrigo Duterte had a "frank" conversation with his Chinese counterpart Xi Jinping when the two leaders met in China last week. There were no threats from Beijing, a top diplomat from Manila said on Monday (22 May) after Duterte declared that Xi warned him of war with Manila if it insists on drilling for oil in the disputed islands of the South China Sea.
Foreign Secretary Alan Peter Cayetano sought to downplay the exchange that allegedly took place between Xi and Duterte, saying both of them only spoke about how to avoid maritime conflict. He stressed that there was no tone of disrespect or harsh language.
However, he did not disclose more details of the meeting that took place on the sidelines of China's Belt and Road summit on 14-15 May.
"The conversation was very frank. There was mutual respect, there was mutual trust," Reuters quoted Cayetano as saying. "The context was not threatening each other, that we will go to war. The context is how do we stabilise the region and how do we prevent conflict."
Duterte is committed to "protecting every single inch of our territory", he said, adding that Filipinos should have faith in the firebrand leader on how he will do that.
"I will not contradict the president's words. I am just telling you...my interpretation: there was no bullying or pushing around, it was not a threat," Cayetano added. "It was more the threat of conflict will always be there if we don't have dialogue."
On 19 May, the outspoken Filipino president said during a televised speech that he raised the South China Sea issue and Manila's arbitral victory with Xi. He said Xi told him that China and Philippines are friends, but Beijing would go to war if Duterte tried to explore for oil in the hotly contested waters where both the countries have territorial claims.
"I said when we were face-to-face, 'That is ours and we intend to drill oil there.' No beating around the bush," Duterte said, according to AP.
He said Xi's reply was: "Well, we are friends. We do not want to quarrel with you. We would want to maintain the present warm relationship. But if you force the issue, we will go to war."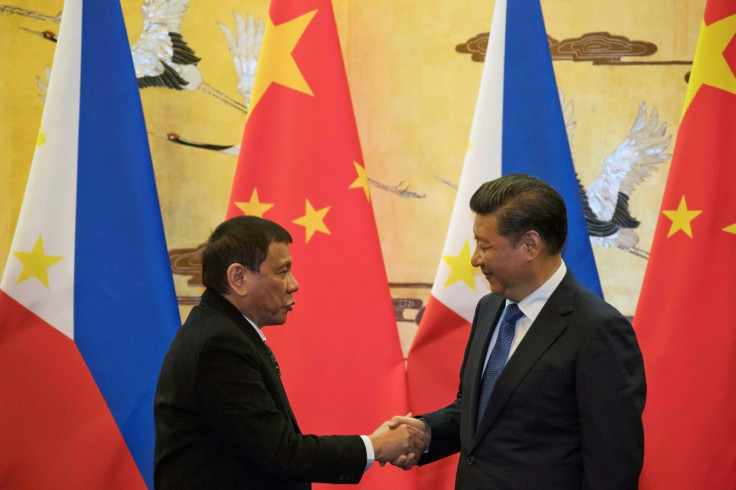 Duterte reportedly replied to Xi: "But I have the arbitral [award]," to which the Chinese leader then apparently said: "Yes, but ours is historical and yours is legal of recent memory. We had that since the Ming dynasty."
Duterte said when he replied that Manila has never been under Chinese jurisdiction and Beijing's defence is "almost alien" to him, Xi reportedly responded: "Well, if you force the issue, we'll be forced to tell you the truth."
When Duterte asked what that was, the Chinese president reportedly said: "We will go to war. We will fight you."