Weeks after being voted the city with the worst traffic on Earth, the Philippines capital of Manila has now achieved the dubious distinction of having the toughest roads to navigate on the planet. The results of a new survey from automobile tech company Drivemode has revealed that nearly 60% of drivers in the city use navigation apps such as Waze and Google Maps while driving.
It is a finding that follows a "Global Driver Satisfaction Index" poll, in which the Philippine capital scored a measly 0.4 points out of 10 – the lowest of any city. Philippine Communications Secretary Herminio Coloma responded to that survey by declaring that the government would step up efforts to ease traffic congestion in the metropolis.
"What is important is our determination to improve the situation and pinpoint the problem and identify the solution," he said in October.
Manila was closely followed by two other Asian capitals, Riyadh and New Delhi, with 56% and 50% of the drivers in those cities using navigation apps respectively.
East-West divide
The Drivemode survey, which collated responses from 25,000 drivers across 16 cities between August and October, also found the US cities of Dallas, Chicago and Los Angeles have the highest percentage of behind-the-wheel texters.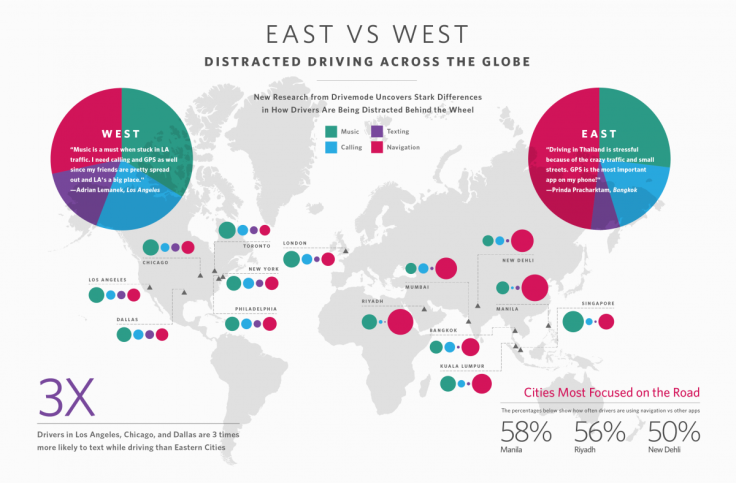 Nearly 30% of drivers in the Thai capital of Bangkok talk on the phone while driving, more than anywhere else in the world. Drivers in the US and Canada were found to be perpetual multi-taskers while driving, switching between navigation, music, phone and texting.
In contrast, almost half of drivers in eastern cities relied on navigation apps. "While smartphone use in the car remains a universal experience, we found a distinct divide between the way Westerners multi-task while in the car, and how the rest of the world uses their phones behind the wheel," Yo Koga, chief executive of Drivemode, told IBTimes UK.
"These regional patterns in app usage help to highlight the role smartphones play in different cultures."