Typhoon Melor: Several dead as powerful storm sweeps through Philippines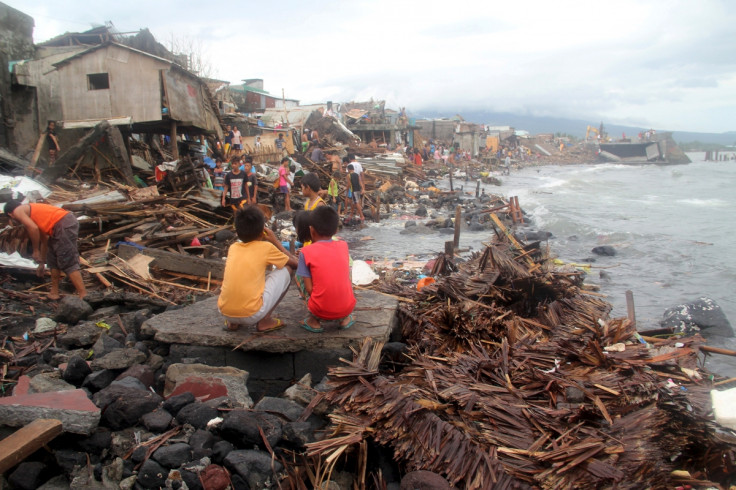 Several people have died in a powerful typhoon that is sweeping through the Philippines. Typhoon Melor, locally known as Nona, made its fifth landfall in the archipelago nation on 15 December, as it reached the Pinamalayan province in the western island of Mindoro.
About 730,000 people were evacuated in six provinces, with the weather bureau warning of possible flash floods and landslides, as the storm arrived on 14 December, bringing heavy rains and winds gusting at 185 kph (115 mph). Trees were knocked down and power lines cut leaving millions in the dark.
A 31-year-old man was killed by a tin sheet dislodged by winds as he was repairing his house's roof in Northern Samar province, civil defence authorities said. Town officials in the town of Catarman, also in Northern Samar, told local media three other residents lost their lives. One died of hypothermia and two drowned in floods.
Melor's strength was captured in numerous videos uploaded on social media.
The west-moving storm has now weakened but its winds still gusted at up to 170 kph (106 mph). Schools remained closed in affected areas and flights and ferry crossing cancellations continued on 15 December.
The Philippines is lashed by about 20 large storms every year. Mellor has passed over some areas that were devastated by another massive typhoon two years ago. More than 7,000 people were killed as Typhoon Haiyan, locally known as Yolanda, lashed the country in November 2013. Melor is expected to cross into the South China Sea on 16 December.
© Copyright IBTimes 2023. All rights reserved.