Philippines: Thousands of cab drivers protest against Uber, Grab in Jakarta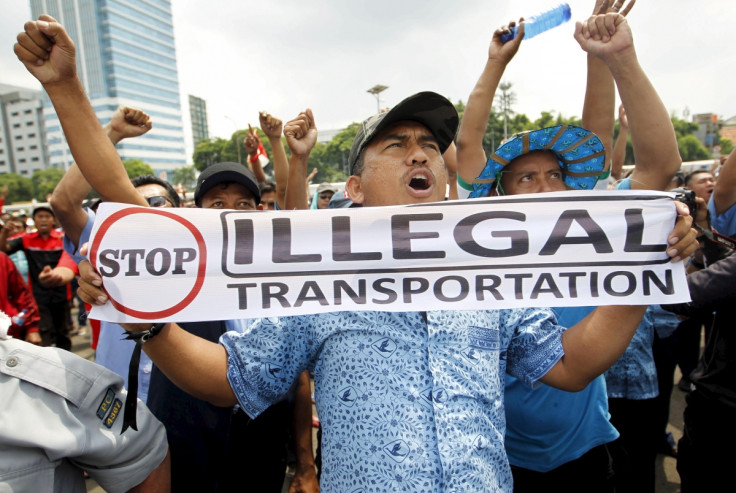 Thousands of agitated taxi and public transport drivers in the Indonesian capital of Jakarta took to streets to protest against mobile taxi hailing services. They also forced passengers to vacate their cars hailed using online apps.
Drivers vent their spleen particularly on multinational companies like Uber and Grab. They said their livelihood was at risk as ride-hailing apps offered low-cost services, with no tax liabilities, Associated Press reported.
Expressing their solidarity with taxi drivers, local bus and "bajaj" motorbike drivers too joined in the street protests. Commuters had a harrowing time as many of them, according to eyewitness accounts, were forced by protesters to come out of their taxis.
"This protest is so terrible. They really are rude and overbearing. I was very hurt," Dewi Gayatri, who missed her flight, was quoted as saying. "I hope the government protects Uber, because it's so easy to order and cheaper," she added.
Traffic on the city streets was thrown out of gear as drivers blocked roads leading to city administration offices, parliament building and the ministry of communications to draw the government's attention to their plight. This resulted in massive traffic jams and long queues of vehicles were seen on city streets.
Salahjuddin, a taxi driver told the BBC, "They are destroying us...We pay tax but because Uber uses private cars they don't. I am fighting for my survival." Another protestor, Ahmad Rahoyo was quoted as saying: "I used to earn up to 100,000 rupiah ($10; £7) a day, but since the apps entered Indonesia just covering my costs is hard."
A few protesters reportedly set tyres on fire at one of the protest sites. Some of the drivers who appeared reluctant to join the protest had to face the ire of the taxi drivers. One of the eyewitness, identified only as Hans, told BBC: "When they saw a taxi driver accepting a passenger they straight away ran over to the vehicle and told the passengers to get out of the taxi... They threatened them with rocks. I didn't see them hit anyone but they destroyed the rear vision mirrors of one taxi."
The government is in a dilemma whether to ban car-hailing apps as there is considerable public support for the low-cost and reliable taxi services. The transport ministry, however, sees eye to eye with taxi drivers on the issue of banning mobile cab apps. It contends that online services are not registered as public transport and this can be a strong ground for banning their operations.
© Copyright IBTimes 2023. All rights reserved.