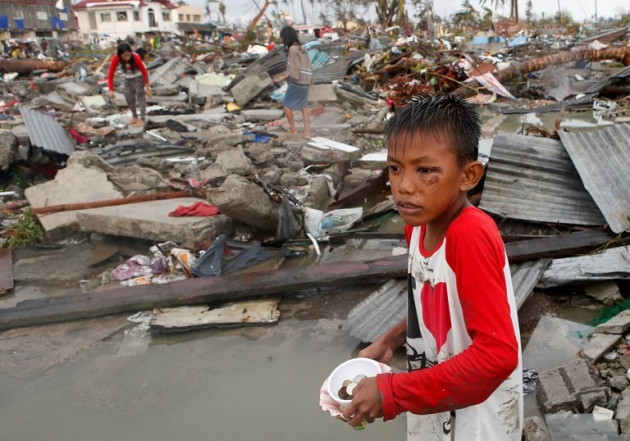 At least 10,000 people in the central Philippine province of Leyte are believed to have been killled by super typhoon Haiyan, a local police official has said.
"We had a meeting last night with the governor and based on the government's estimates, initially there are 10,000 casualties [dead]. The devastation is so big," Chief Superintendent Elmer Soria told reporters in the provincial capital Tacloban.
World leaders and celebrities took to social media to send their thoughts and prayers to the country in the wake of the deadly storm.
Pope Francis: "I ask all of you to join me in prayer for the victims of Typhoon Haiyan/Yolanda especially those in the beloved islands of the Philippines."
Alicia Keys: "To the people of the Philippines my heart is with you #prayers #Haiyan"
Rihanna: "Navy, please keep the people of the Philippines in your prayers! I was just there, this truly breaks my heart."
Olivia Munn: "My thoughts are with everyone in the Philippines right now. I hope loved ones are able to find each other."
Jessica Sanchez: "I am praying for the Philippines and all my Filipino Blujays this morning in the wake of this horrendous storm! Be safe and stay strong!"
Mike Tyson: "My heart goes out to the everyone affected by the horrible typhoon in the Philippines. I'm sending my prayers to you."
Jared Leto: "Terrible. My heart goes out to everyone there. "@cnnbrk: 'Worse than hell' in typhoon-ravaged Philippines."
Valerie Amos: "Extremely saddened by reports of loss of life & devastation caused by #YolandaPH in #Philippines - 4.3m ppl in 36 provinces affected"
Floyd Mayweather: "My thoughts and prayers are with everyone in the Philippines," he tweeted as he set aside his rivalry with Filipino champ, Manny Pacquiao."
Korean actor Lee Min Ho: "I heard that there was great damage done by typhoon Haiyan in the Philippines. I hope everyone is safe now. Please don't lose faith. We're thinking of you from Korea."
Kevin Pritchard, Indiana Pacers' General Manager: "I'm watching the Philippines and i'm wondering - what's the best charity to give to to help them directly. They are the friendliest people."