Ian Edmondson was not the most prolific phone hacker at the News Of The World.
The former news editor of the defunct newspaper was a "tasker" - an executive who instructed "special investigator" Glenn Mulcaire, a man he wanted to sack, whose messages to intercept.
Edmondson told Mulcaire to target victims, including Sienna Miller, Paul McCartney and Labour MP Tessa Jowell.
But the 45-year-old's involvement in phone hacking started to unravel in 2010 when his name featured in 334 notes Mulcaire scribbled down with hacking "orders" on.
He was suspended from the newspaper in December that year and after falling ill at last year's trial, Edmondson today became the eighth person to be convicted of phone hacking after pleading guilty at the Old Bailey.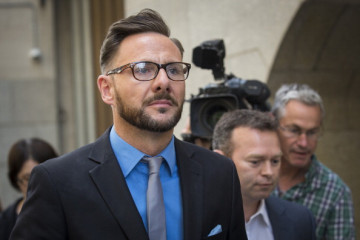 Aggresive culture
The court was told how Mulcaire's services became an invaluable tool to the News Of The World in a environment described by prosecutor Mark Bryant Heron QC as an "aggressive news gathering culture where the ends seemed to justify the means in an extremely competitive market".
Mulcaire was paid a retainer worth £1,769 a week, rising to £2,019 in July 2003, six months after Andy Coulson took over from Rebekah Brooks as editor.
Ironically, Edmondson thought Mulcaire was too expensive and emailed Coulson and managing editor Stuart Kuttner saying his retainer "had to stop" amid cost-cutting.
"No more please"
During the second half of 2005 and after Mulcaire was handed a new contract (Edmondson confirmed the new contract in an email saying: "Happy now, grump?"), Edmondson's tasking started in earnest.
The two formed a "close working relationship", Heron said, either calling or texting each other 800 times between July 2005 and August 2006.
Flooded with requests, Mulcaire was forced to email Edmondson pleading "no more please" in April 2006, before instructing him how to hack into Jowell, Lord Frederick Windsor and Lord Prescott's aide's mobile phones.
It was this series of emails, detailing how to intercept the parliamentarians' messages, that blew the "rogue reporter" argument peddled by the paper out of the water and initiated Operation Weeting into phone hacking.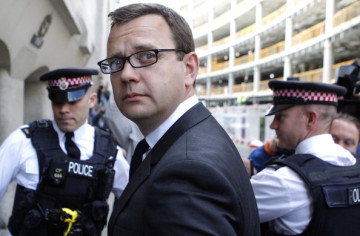 Mistrust
As the love lifes of Sienna Miller, Jude Law and Sadie Frost hit news stands, Edmondson gave the thumbs up for Miller's childhood friend Archie Keswick to be hacked 10 times, some from a landline at the News Of The World's offices.
It also emerged in court that Edmondson hacked the News of the World's showbiz reporter Rav Singh to find out if he had leaked information about the paper's "I'm Having Callum Best's Baby" story to the son of George Best, a friend of Singh's.
"I've done it myself"
The smoking gun as far as Edmondson's dark arts came today when the court was told how a damning tape recording implicated him in hacking.
During an undated phone conversation with journalist Matt Nixson, Edmondson confessed "Yeah, I've done it myself", in reference to royal editor Clive Goodman's suspected hacking.
He was dismissed from the Sunday newspaper for gross misconduct in January 2011.
Edmondson, who spoke only to indicate his guilty plea, was bailed and will return to the court in November for his sentencing.