More than 2,000 US military veterans plan to form a human shield to protect protesters against the Dakota Access pipeline project near the Standing Rock Reservation in North Dakota. Veterans Stand for Standing Rock said they will be bussed to the protesters' main camp on Monday (5 December) and spend most of Tuesday and Wednesday on the front lines.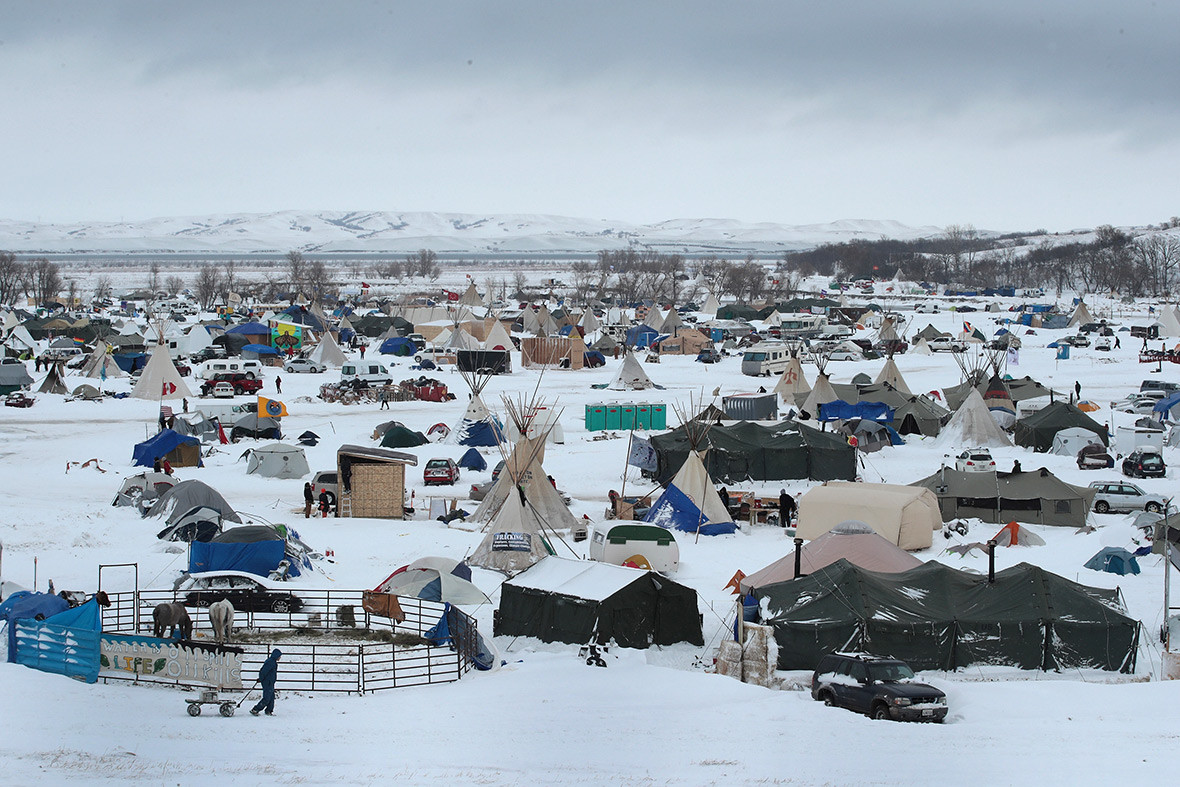 The protesters have spent months rallying against plans to route the $3.8 billion (£3bn) Dakota Access Pipeline beneath Lake Oahe near the Standing Rock Sioux reservation, saying it poses a threat to water resources and sacred Native American sites. Protesters include various Native American tribes as well as environmentalists, and even actors including Shailene Woodley.
Governor Jack Dalrymple had issued an order on Monday (28 November) for activists to vacate the Oceti Sakowin camp, located on US Army Corps of Engineers land near Cannon Ball, North Dakota, citing harsh weather conditions.
Morton County Sheriff Kyle Kirchmeier said North Dakota's notoriously brutal winters may help empty the camp of protesters, many of them who are from out of state. "That's what I'm hoping, or at least cut the number of them," he added. Much of the state, including the encampment, has been hit with the first big winter storm of the year, as heavy snow and strong winds pounded the area.
The sheriff said snowplough crews were working to clear roads throughout the county, but about a mile of a state highway leading to the encampment was being left unploughed. "Workers do not feel safe there," he said.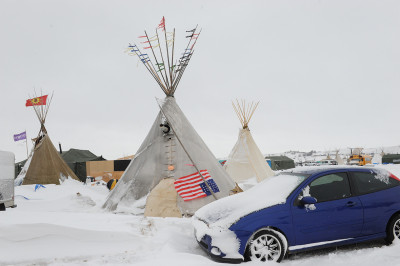 North Dakota law enforcement has backed away from a previous plan to cut off supplies to the camp – an idea quickly abandoned after an outcry. Local and state officials said they would only check vehicles for certain prohibited supplies like propane, and possibly issue fines. The state's decision not to stop cars entering the protest site indicated local officials will not actively enforce the emergency order to evacuate the camp.
The 1,172-mile pipeline is nearly complete except for a small section beneath a Missouri River reservoir near the encampment, which is about 50 miles south of Bismarck. Opponents, who call themselves "water protectors," worry about potential effects on drinking water on the Standing Rock Sioux reservation and farther downstream on the Missouri River, as well as destruction of cultural artefacts, including burial sites. They also believe the land near the confluence of the Missouri and Cannonball rivers is still rightfully owned by the Standing Rock Sioux under a nearly 150-year-old treaty.